So, I really haven't posted here about my 64 Beetle. Since selling my bus, I stalled out a bit and kinda lost interest in the whole VW and show scene. It just didn't seem likely I would get back into a VW in the forseable future.
Last April I managed to buy Herbie from Brad and Andrea. We had teased quite a bit in the decade before that one day I would buy the car from them. The time was right, and I was excited to bring the car home. I think I was most excited that I have known this car since I was 17, and after Reise, Peabody and the transients that came over the years, getting this car really meant alot.
Me and Herbie back a few years ago...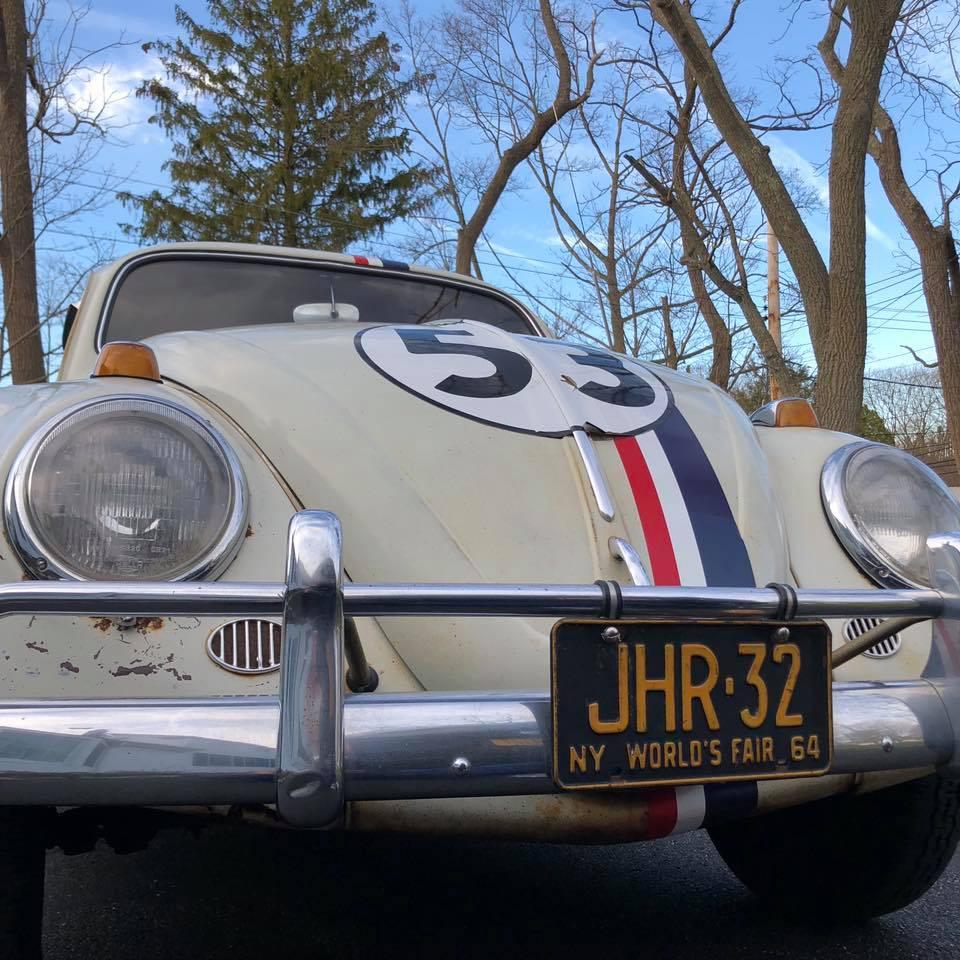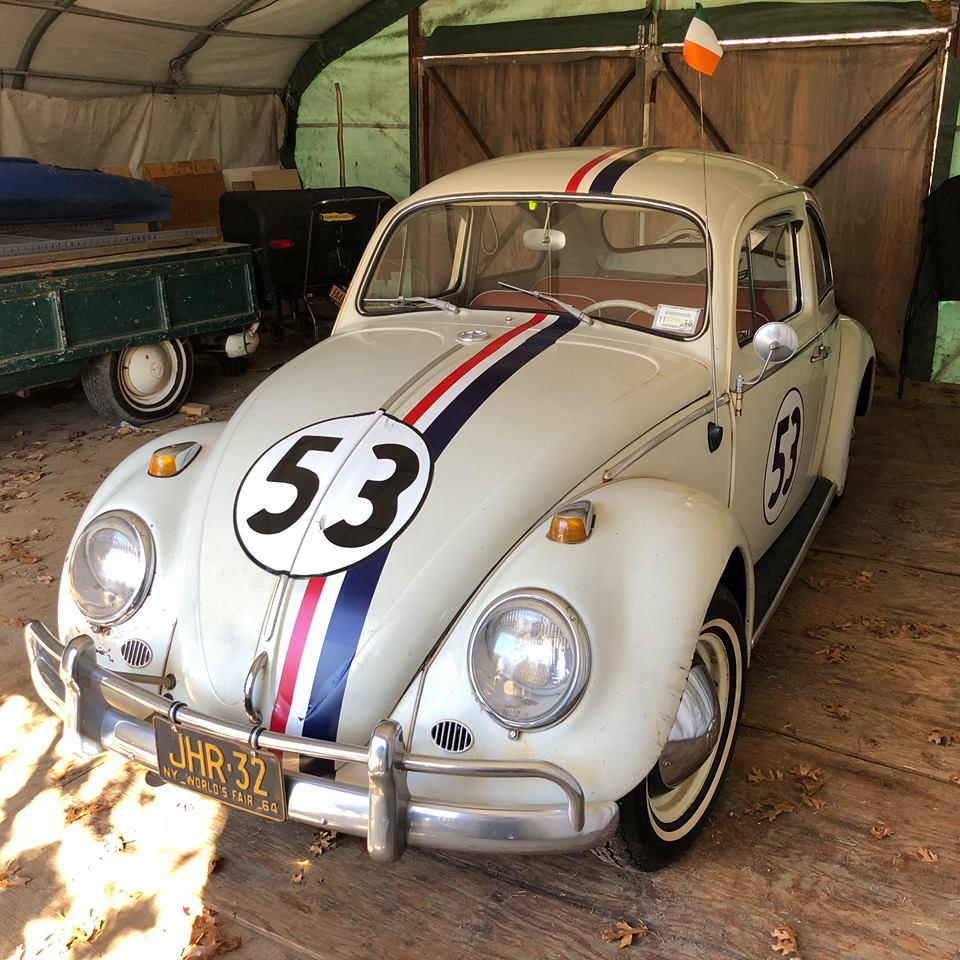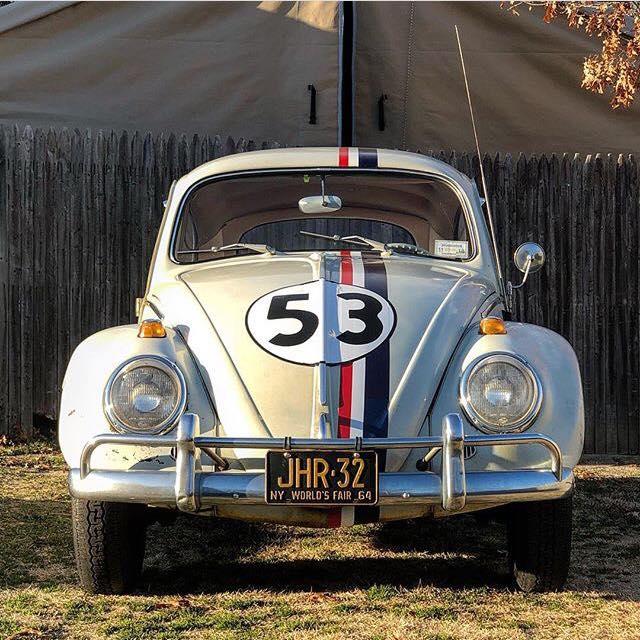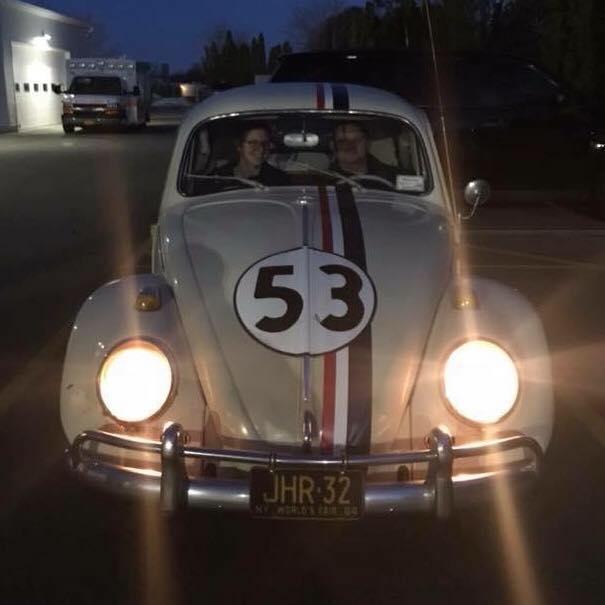 I had a blast driving around in an older bug, I've never had a car this old and totally understand why people gravitate to the earlier cars. I took it all over, we went to Green Wood, random late night trips for food, went camping, took it to Governors Island for the Traffic Jam - it just never got old. This was the perfect car for me. It was't perfect, it was just worn enough for me to not be afraid to drive it, and it was solid and perfect enough that I didn't want to go out and re-do everything. I loved it.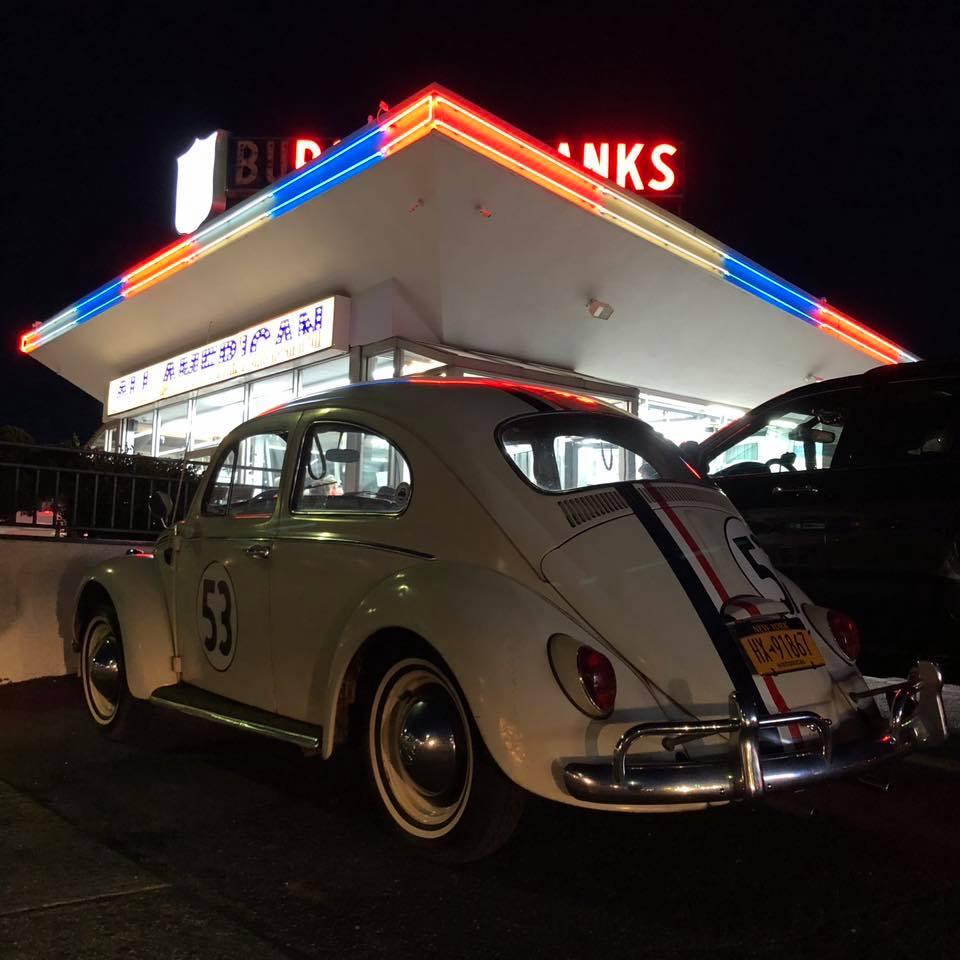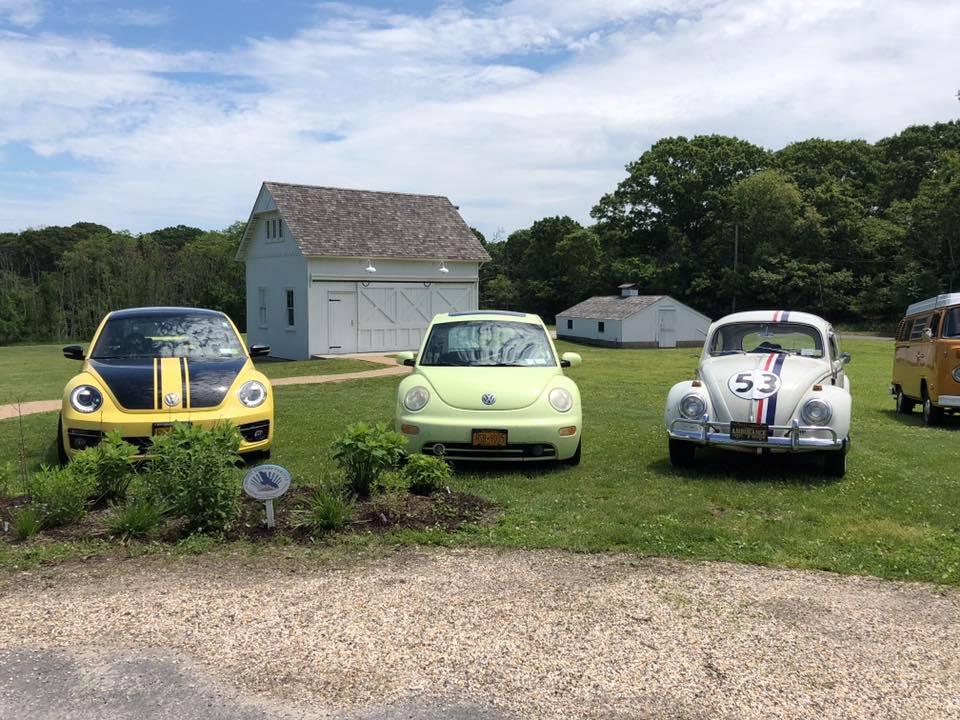 One August morning, I was rear ended by a distracted driver in a Jeep Wrangler. Her rear bumper came right into my rear decklid. Her front passenger wheel bent up my bumper, and broke my tail light. The deckilid bent in, and came to rest upon the generator which spun out.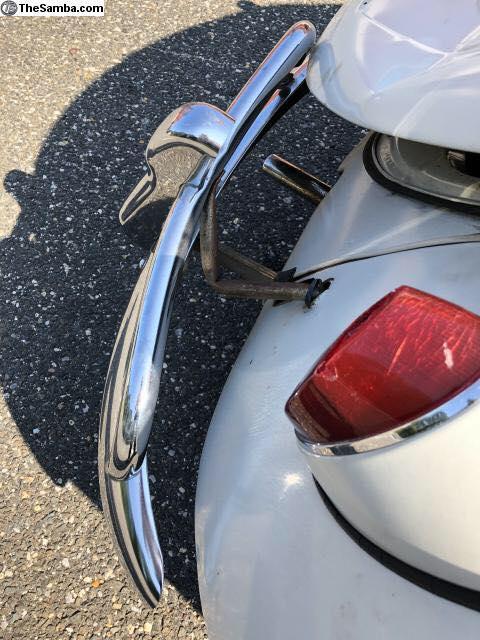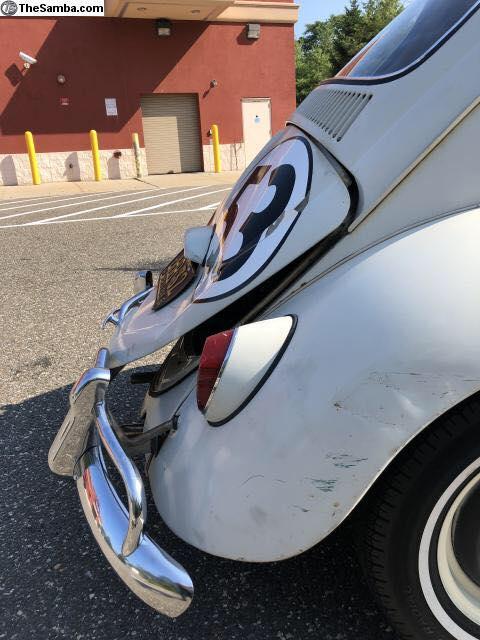 Hagerty towed the car home and that afternoon I started taking it apart to see how bad the damage was. The rear bumper came off and from there I was able to get the decklid open. The engine would crank - but not fire up. I noticed the generator was sticking and then removed the belt. Once the belt was off the engine started right up and sounded healthy - which was telling me the generator was frozen either because it or the fan had shifted. I shut the engine down almost immediately once I knew the engine itself was ok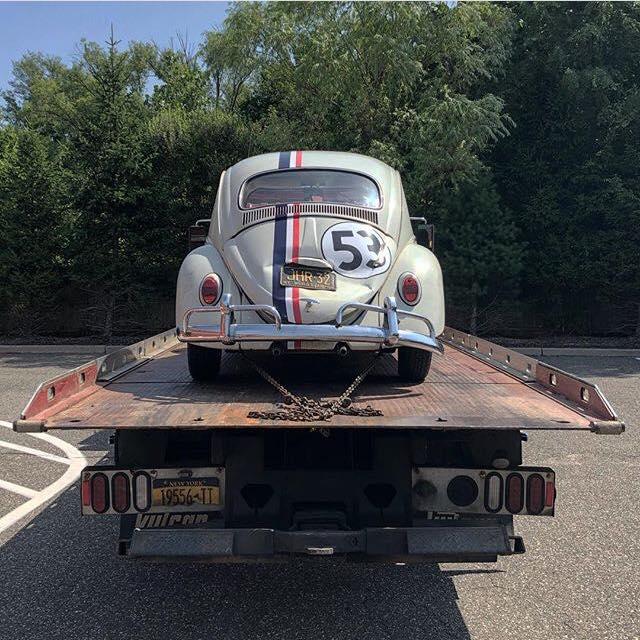 I waited a few days to explore my options, and decided sending it to a shop was the best bet. I did some research and ultimately used a new-to-me shop that has a big classic car following up here. The adjuster came down and looked over the car, thankfully - a Hagerty guy - he knew what the car needed to be right. Realistically, they could have put the car back on the road for about $600. But he wrote the repair for a complete tear down and full paint. He was actually funny (and fun) to work with. When we walked around the car he said "Well, if we paint the lid, we have to paint the fenders, and then we have to paint the quarter panels, and there is no seam in the roof - so we'll paint that too... But then it won't match the doors, or the fenders, or the hood - so, we'll have to paint the whole car!" I didn't argue...
The shop was great. They gave me a corner of the shop to work in and I went in for three days to strip the whole car down - windows, doors, engine, and all.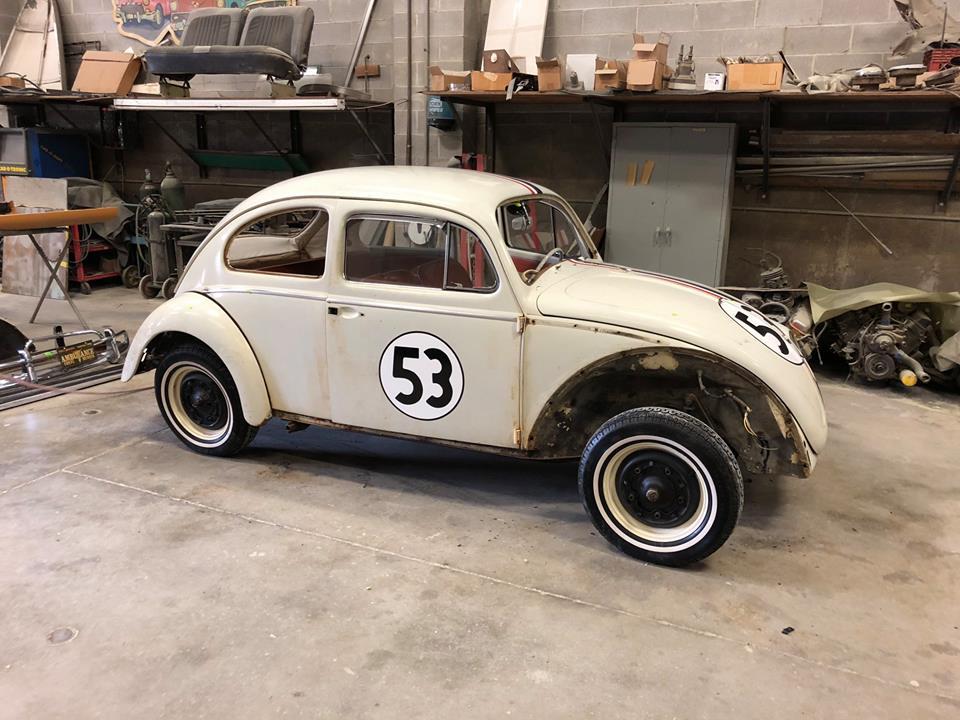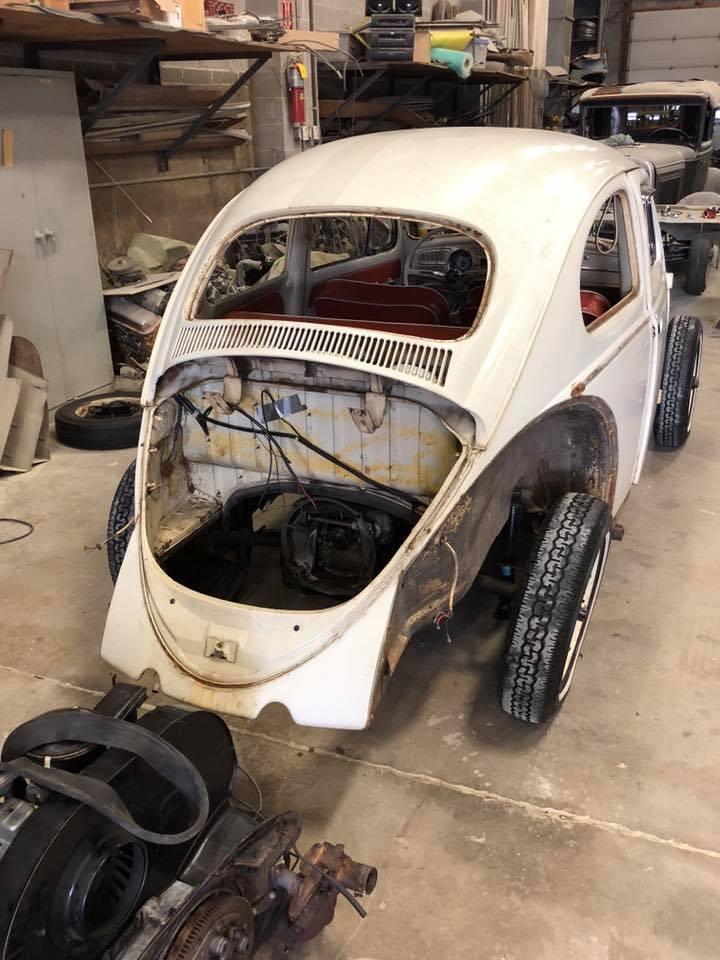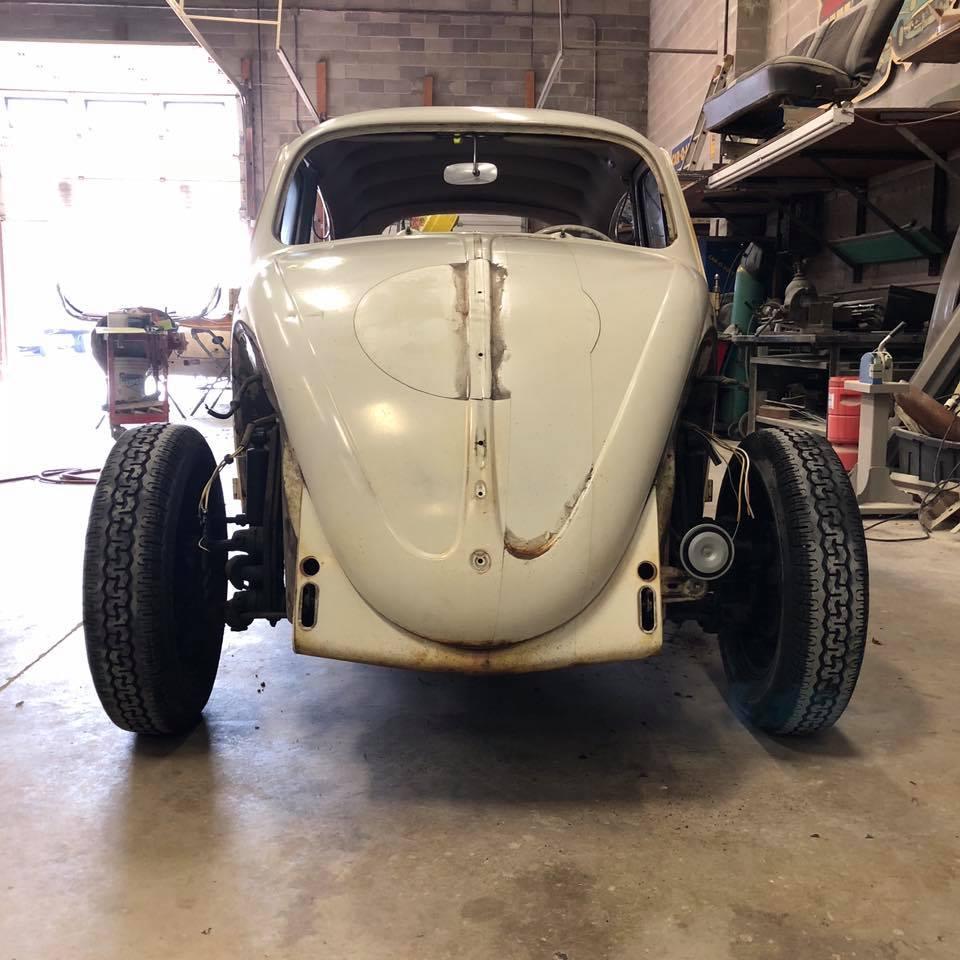 They made some non-related repairs to the body but over all it was a really solid car. Only one spot of some rust which was from a previous fender bender. Four fender bolts snapped and so did a few with the running boards. They also tapped those out.
The whole car came down to metal.
I found a new decklid - actually a 63 because I like the Popes nose and for a half-second was considering going back to the Herbie look. I ultimately decided not to go back to the Herbie look - but the decklid is an easy swap if I want to put a 64 lid back on.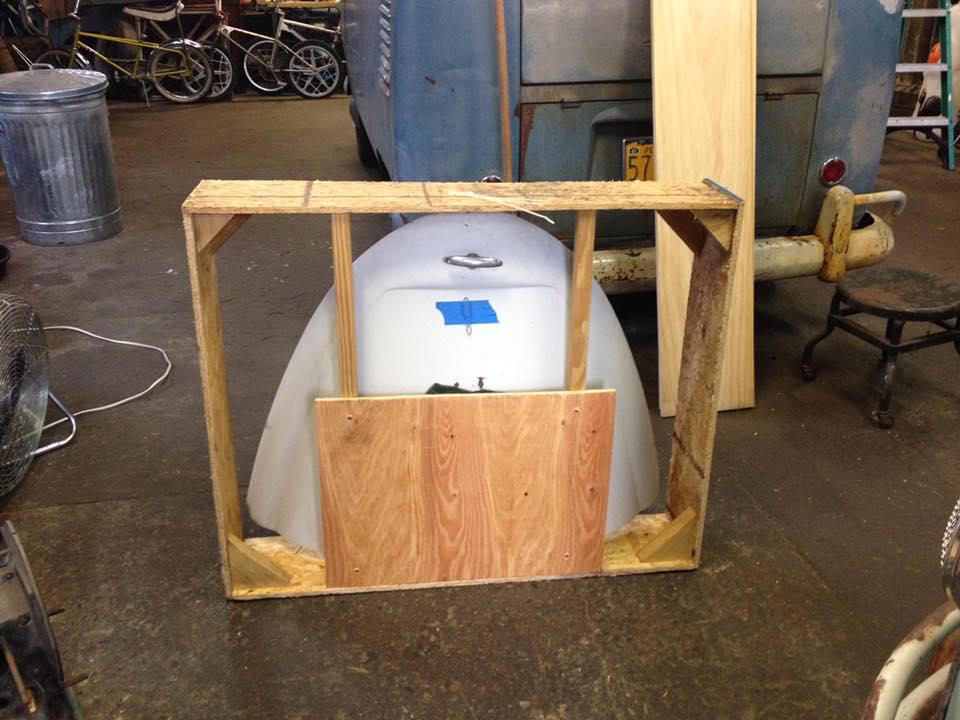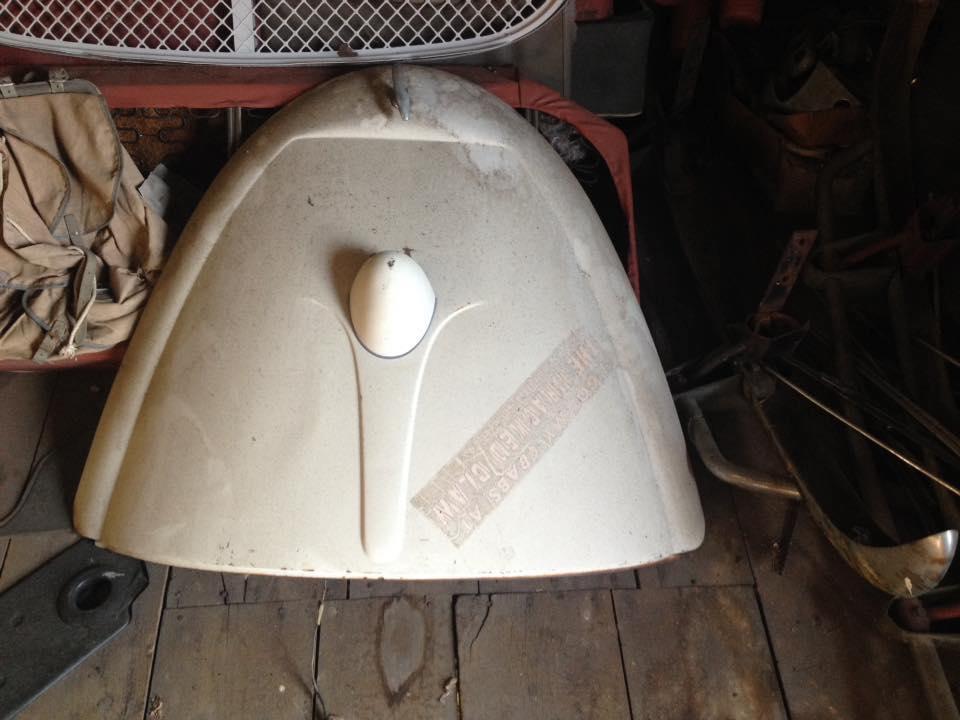 I got a new front fender from Raj because my old one was rusted. Turned out, they both needed work. So Raj's fended became a donor for some graft work on my existing fender.
They did a few blow outs of color, and I tested their samples against some guarded original paint under the hood to see how the match was. Once I liked the color, the car went into epoxy before being blocked ant painted.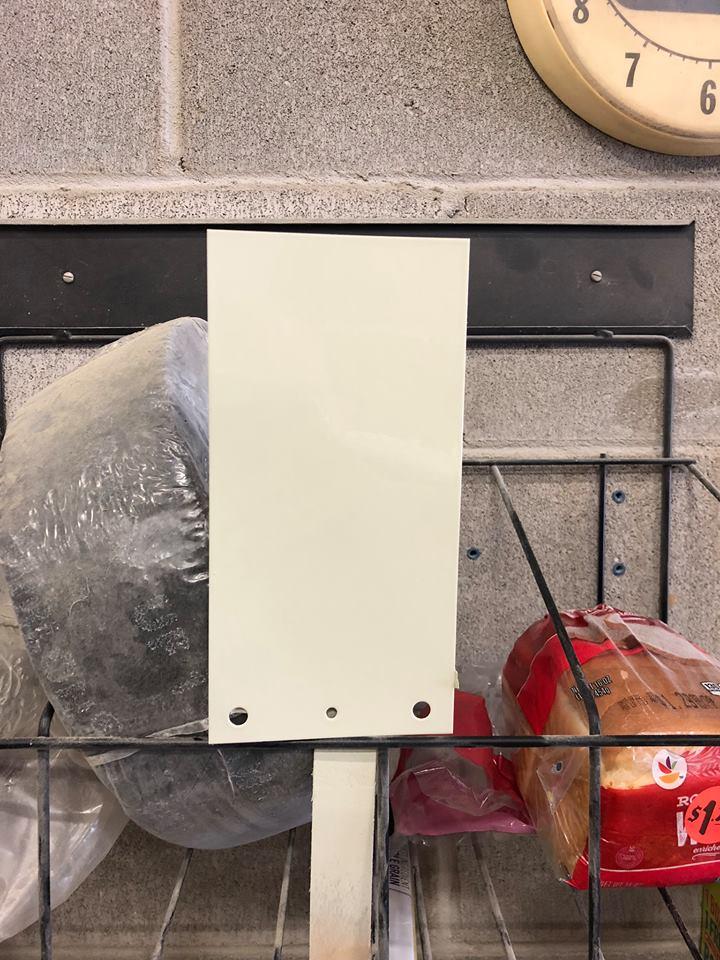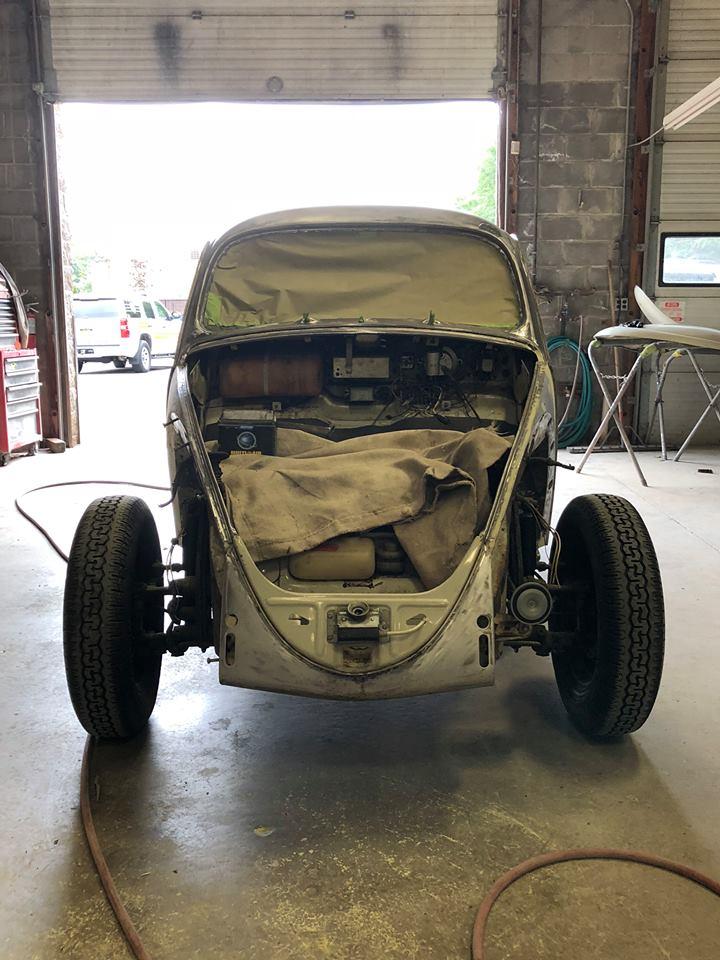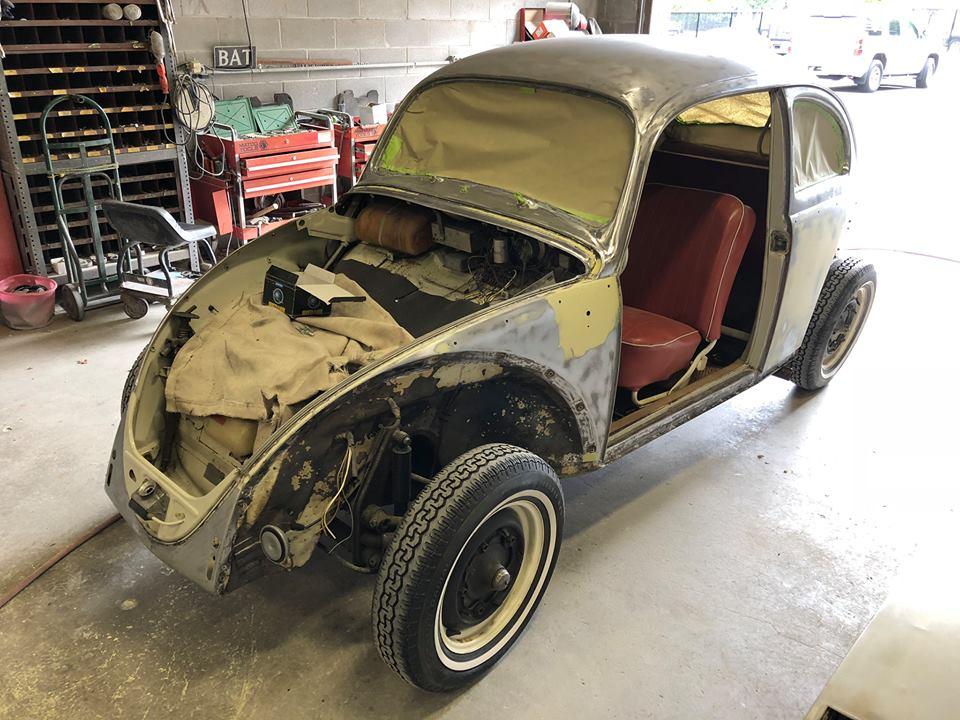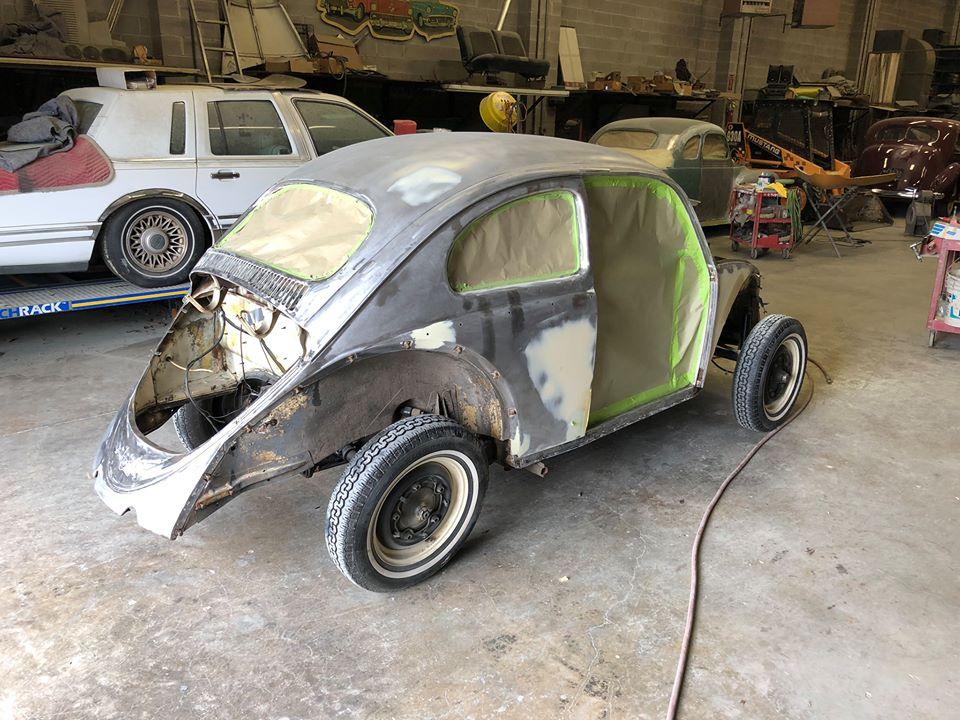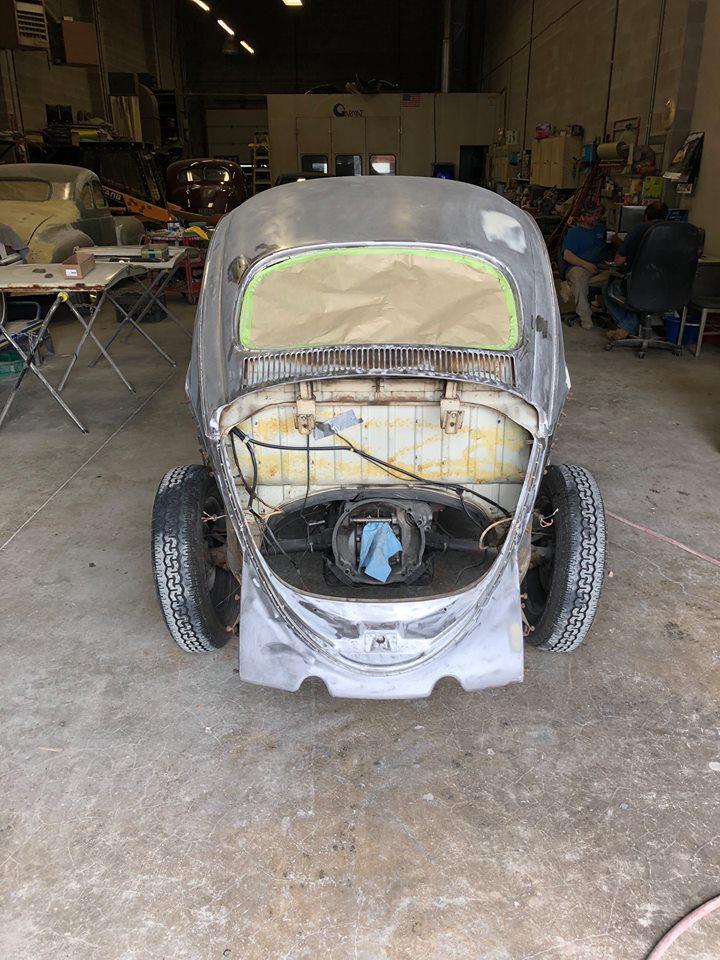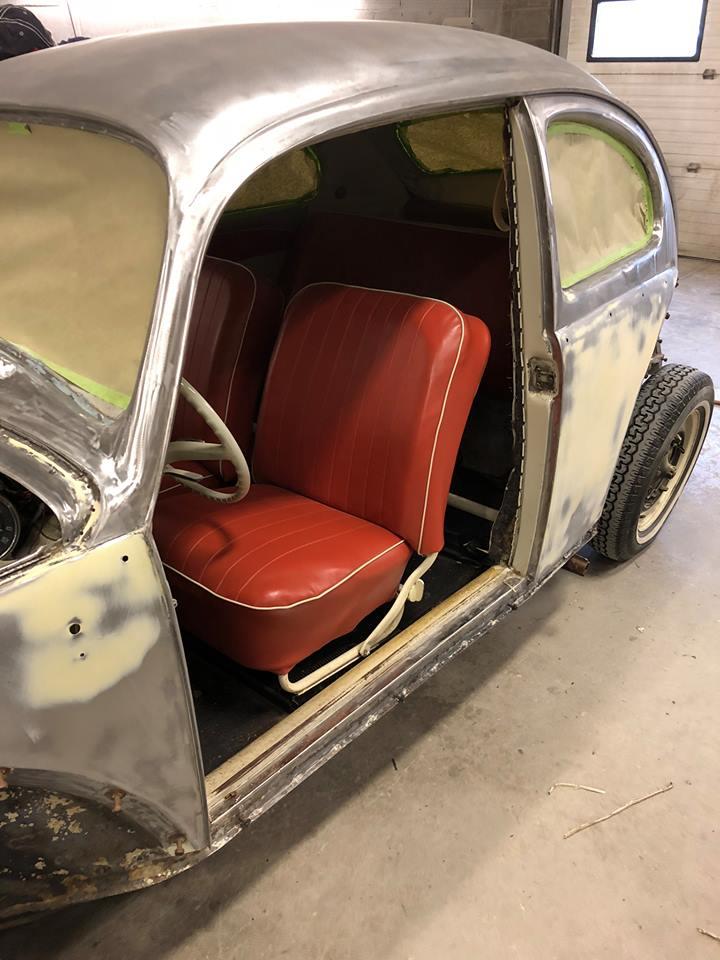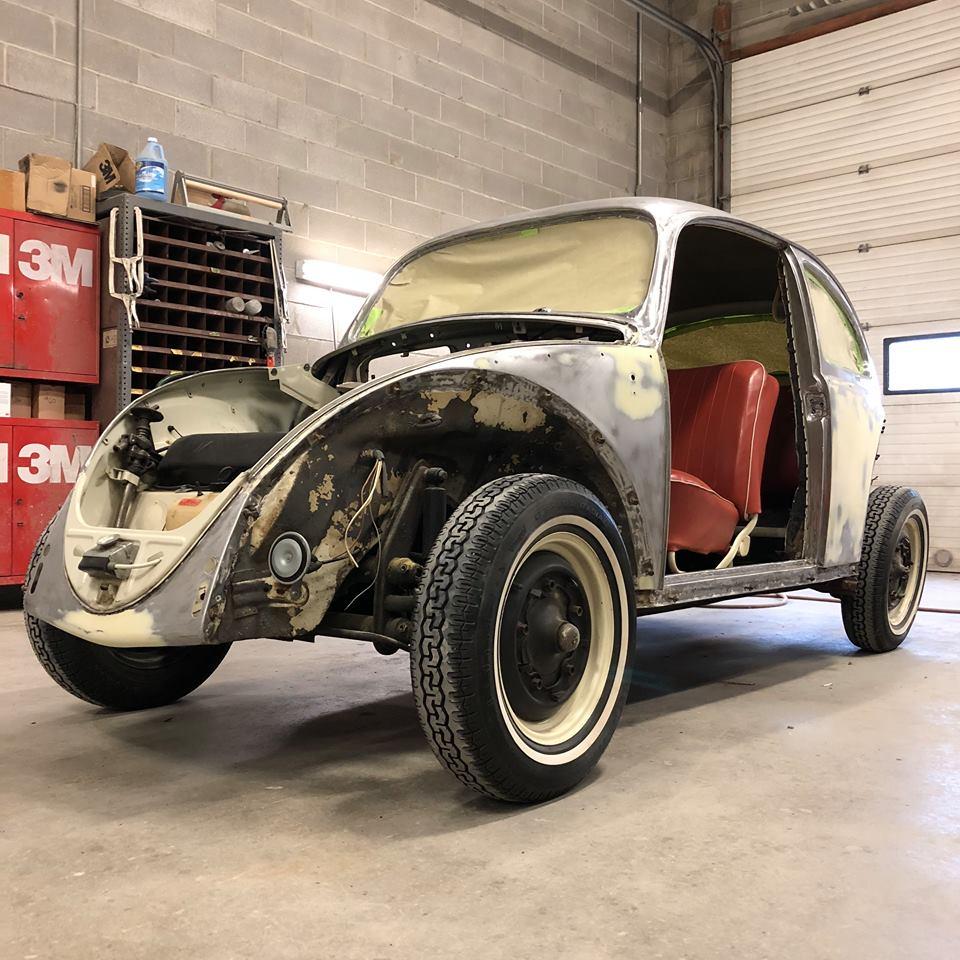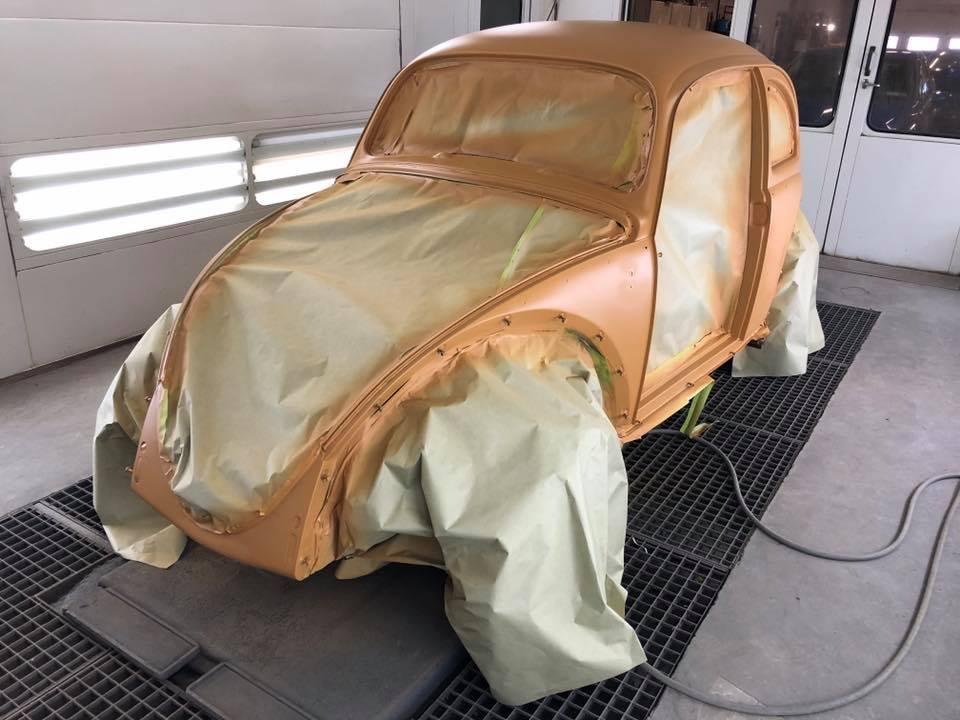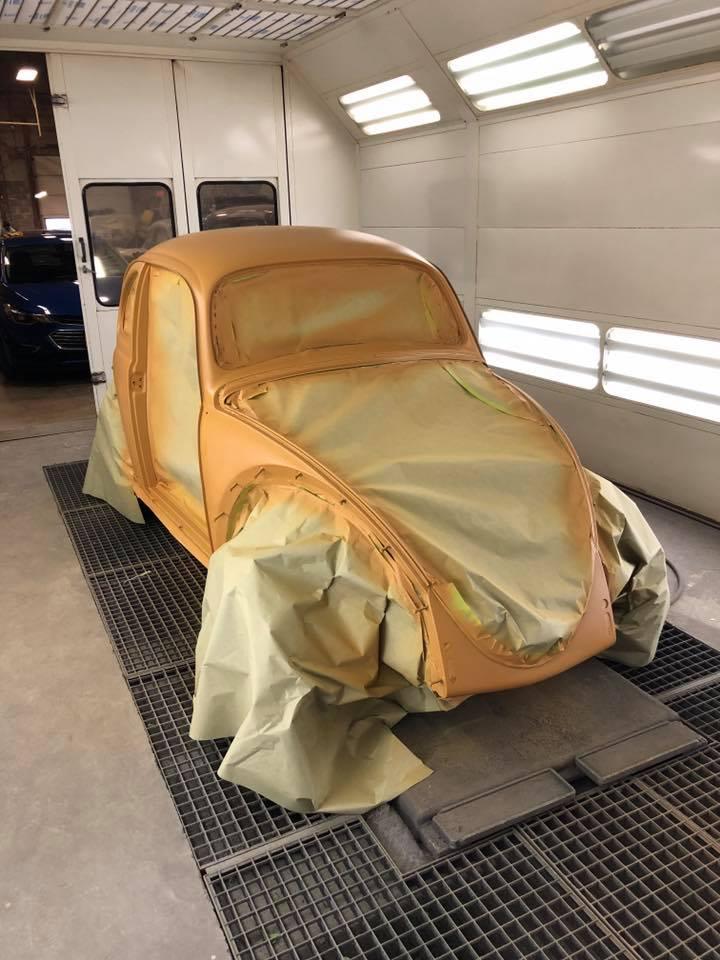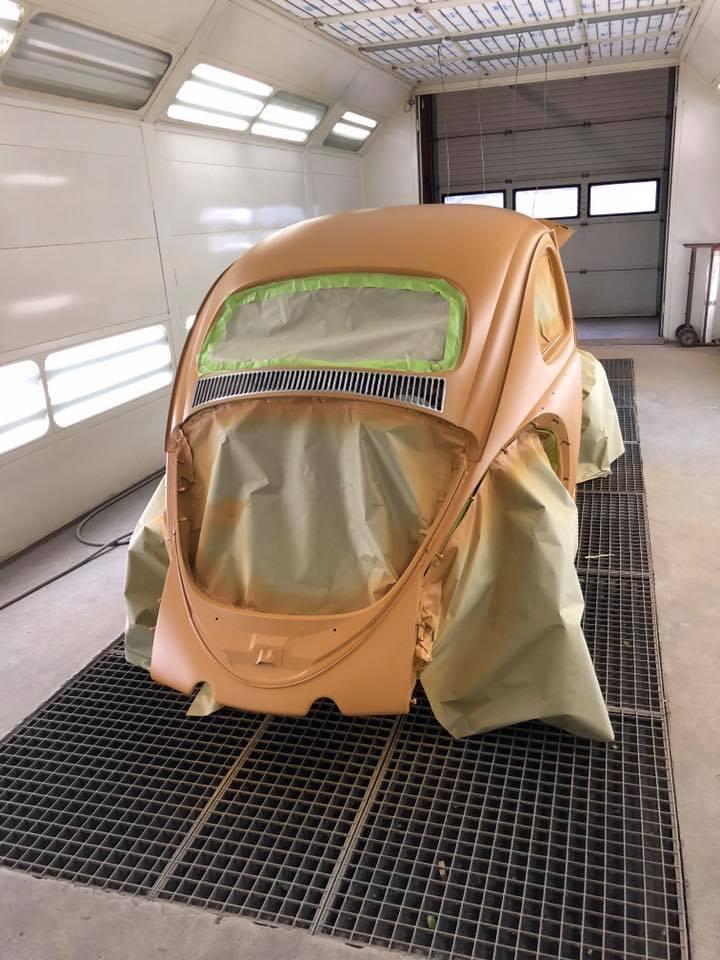 Then, we were ready for paint.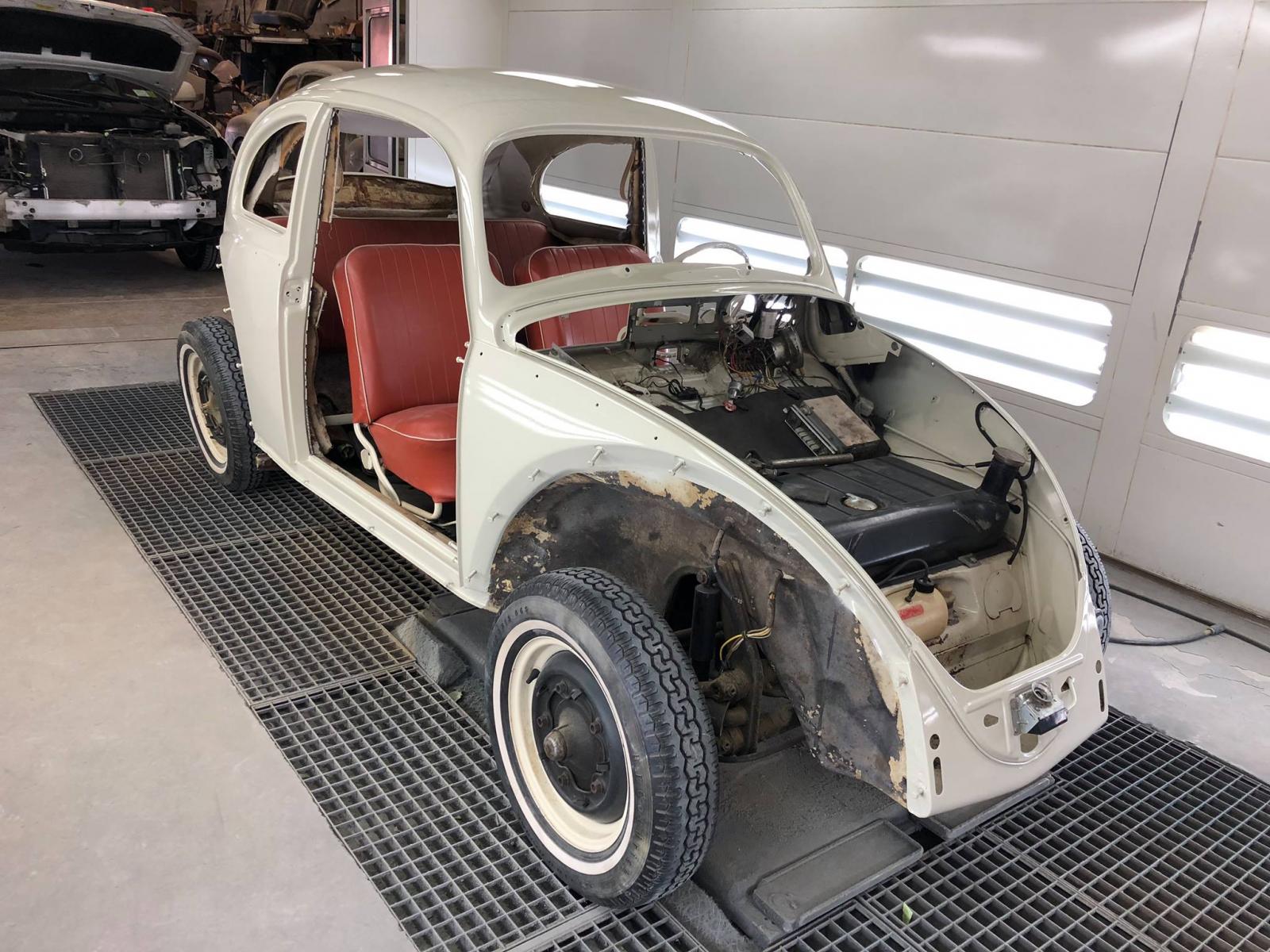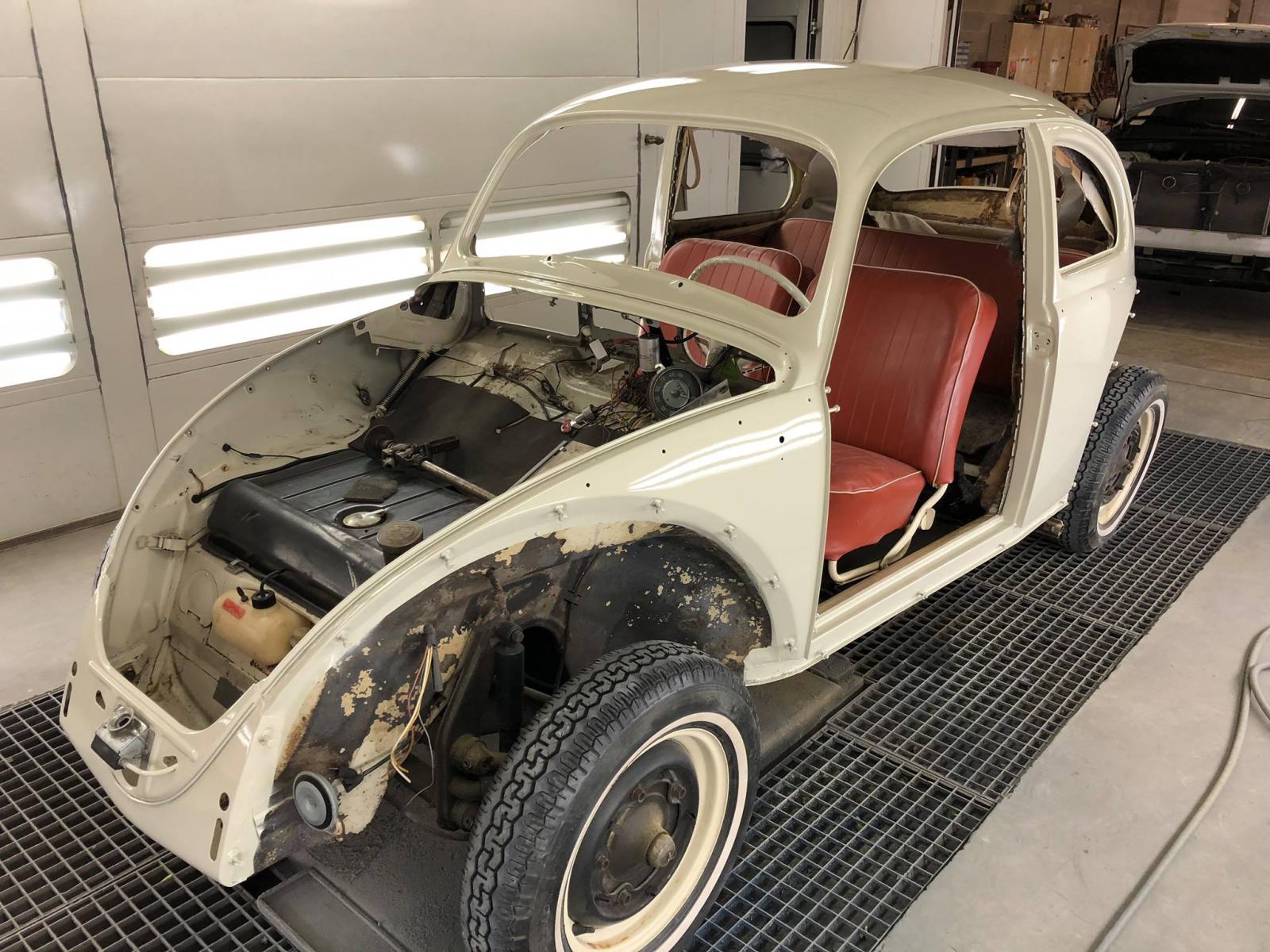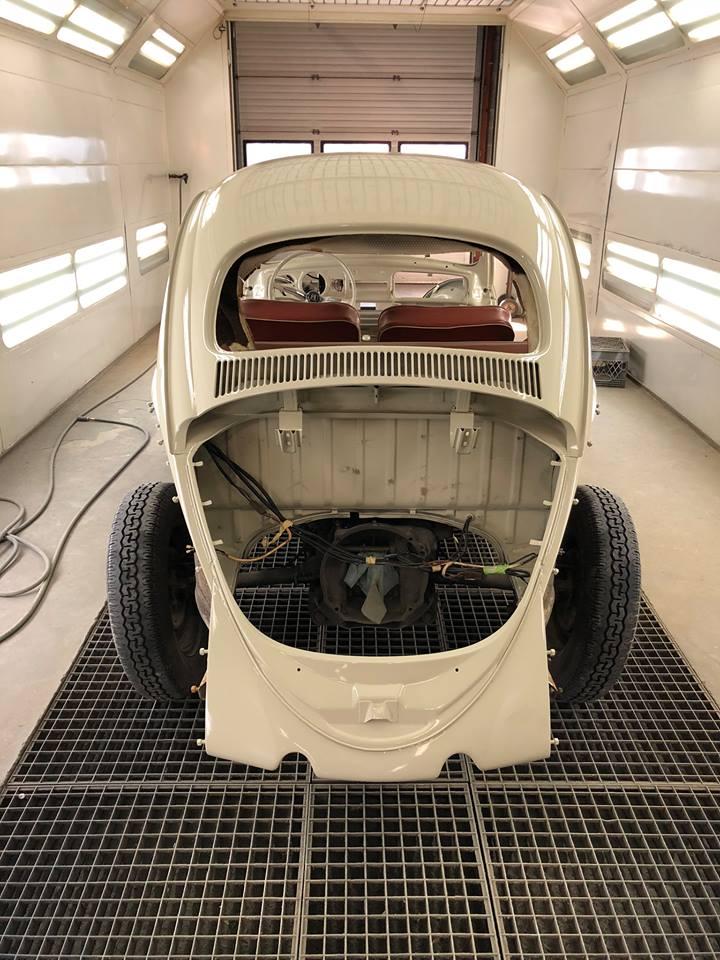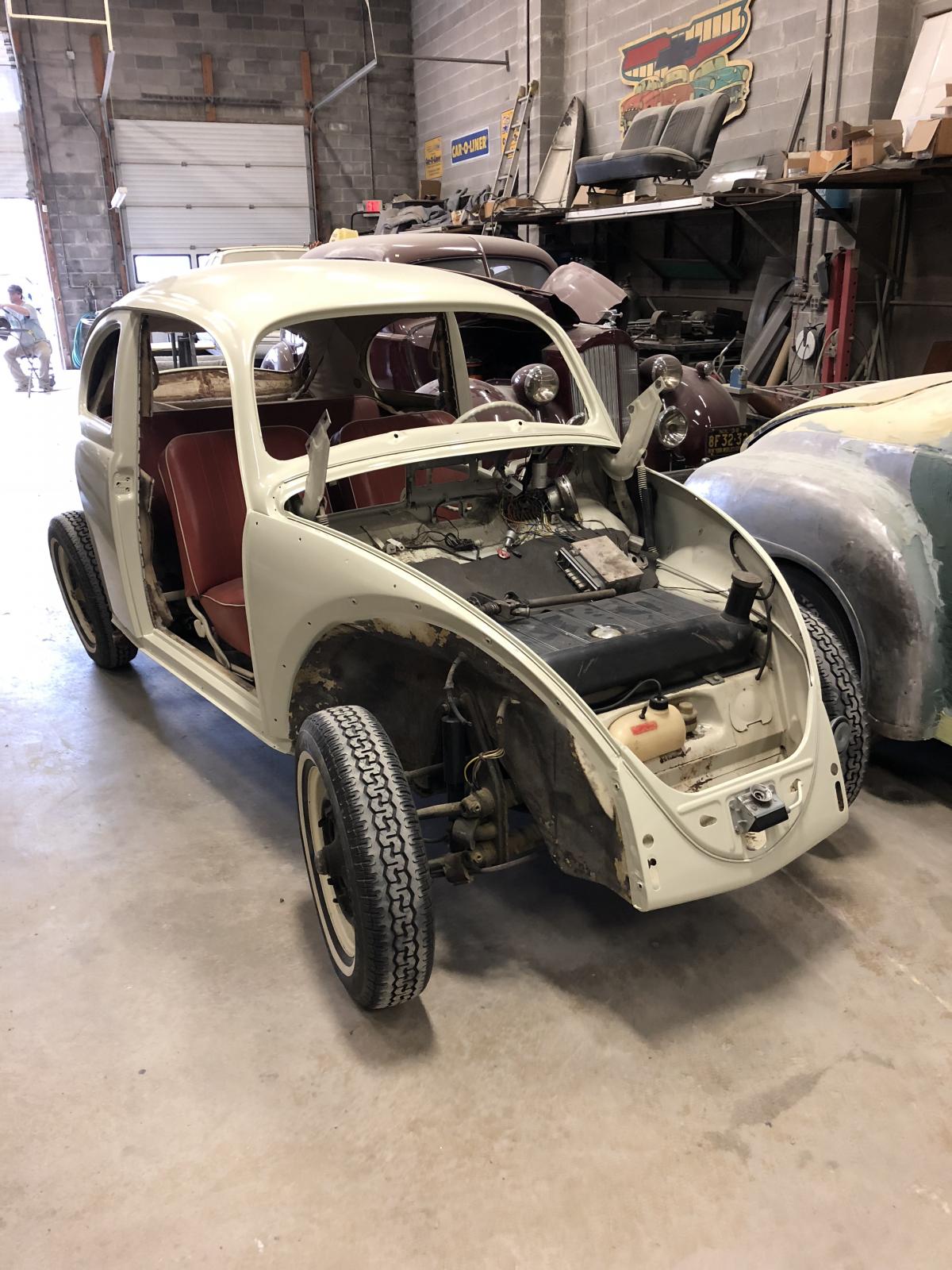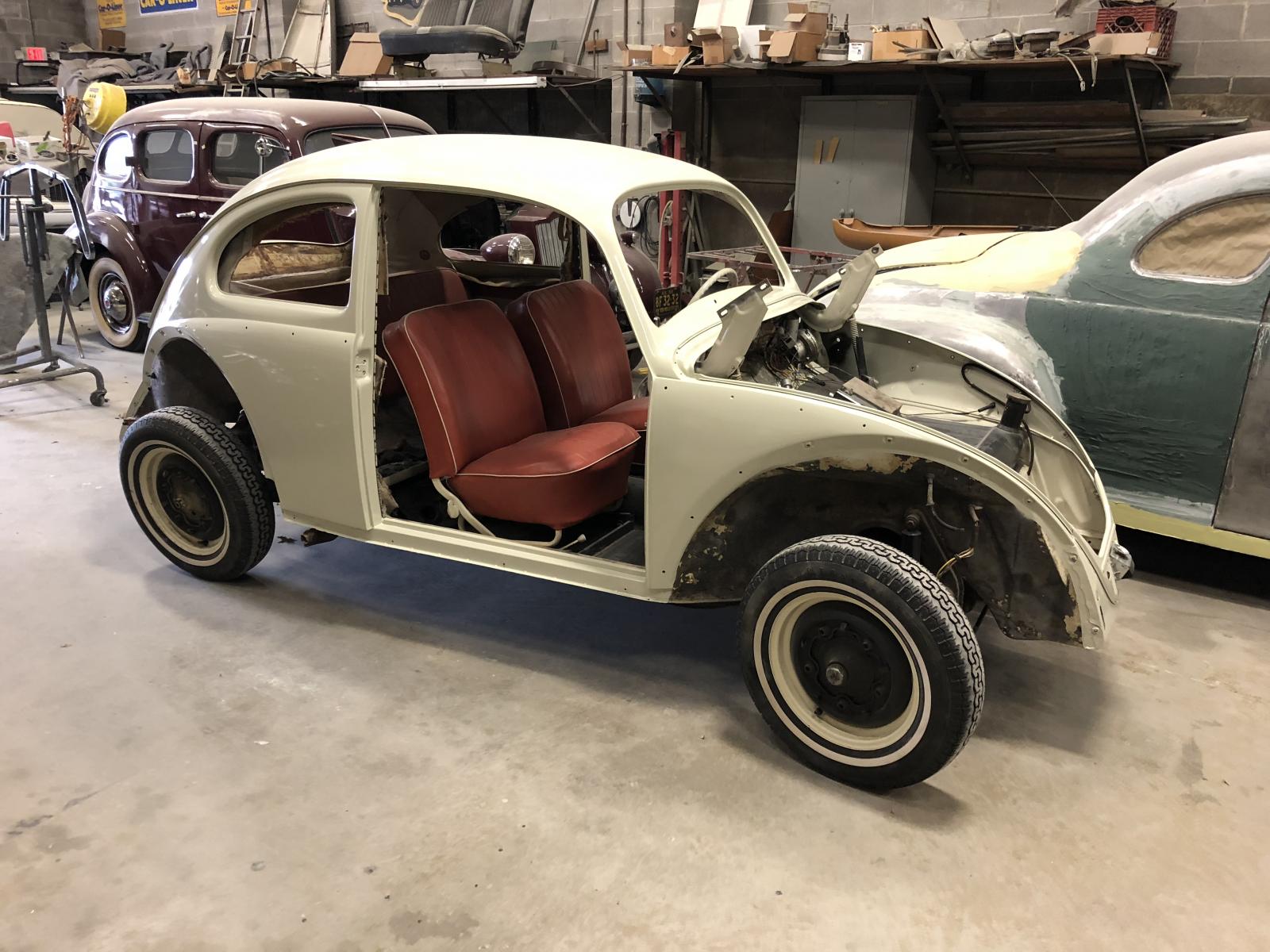 I checked the color match to the fender beading too...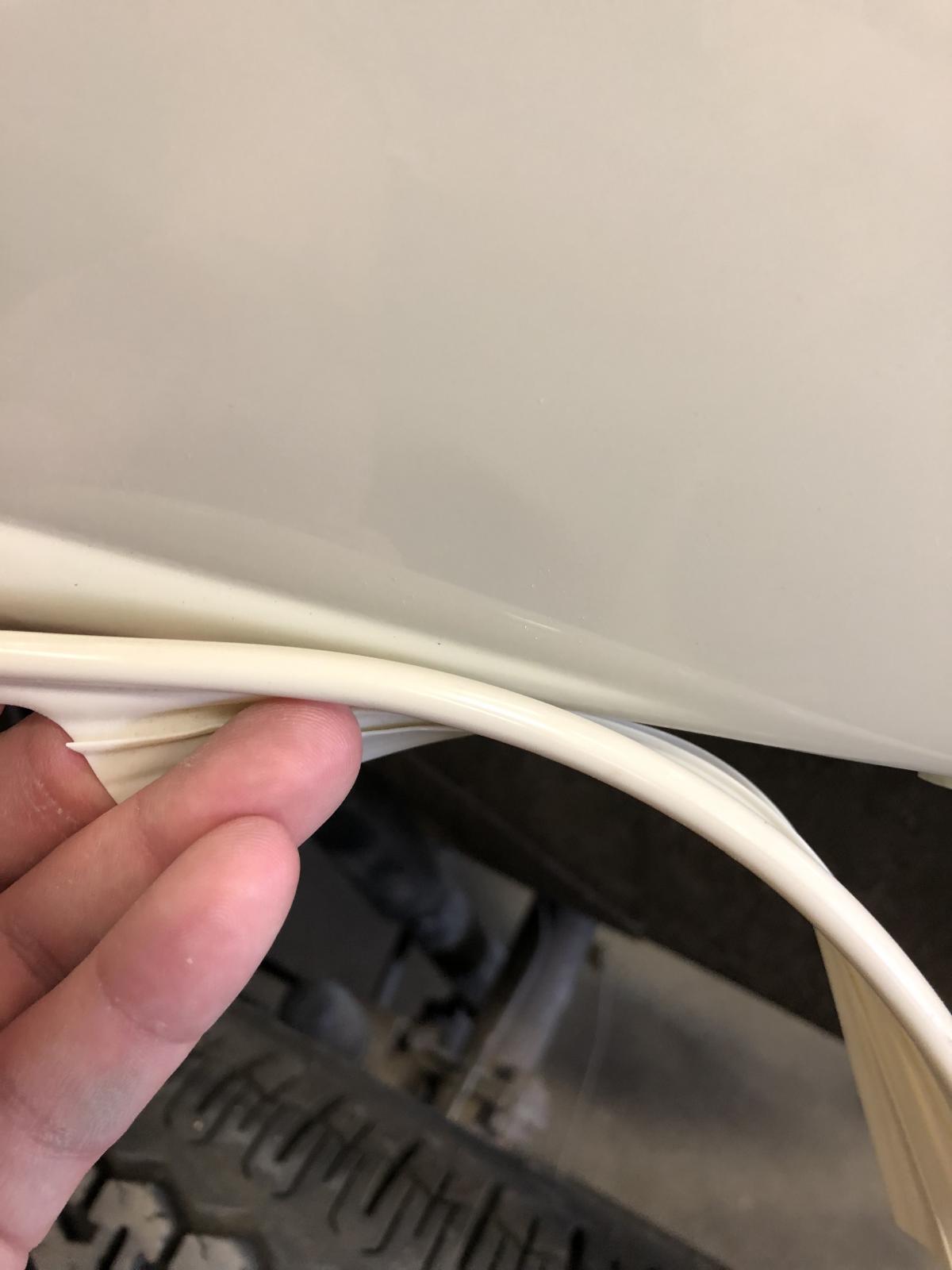 The insurance company didn't cover the wet sand and polish, so that was the first time I had to lay anything out.
It was definitely worth it though. The finish was way nicer after the polish.
Before: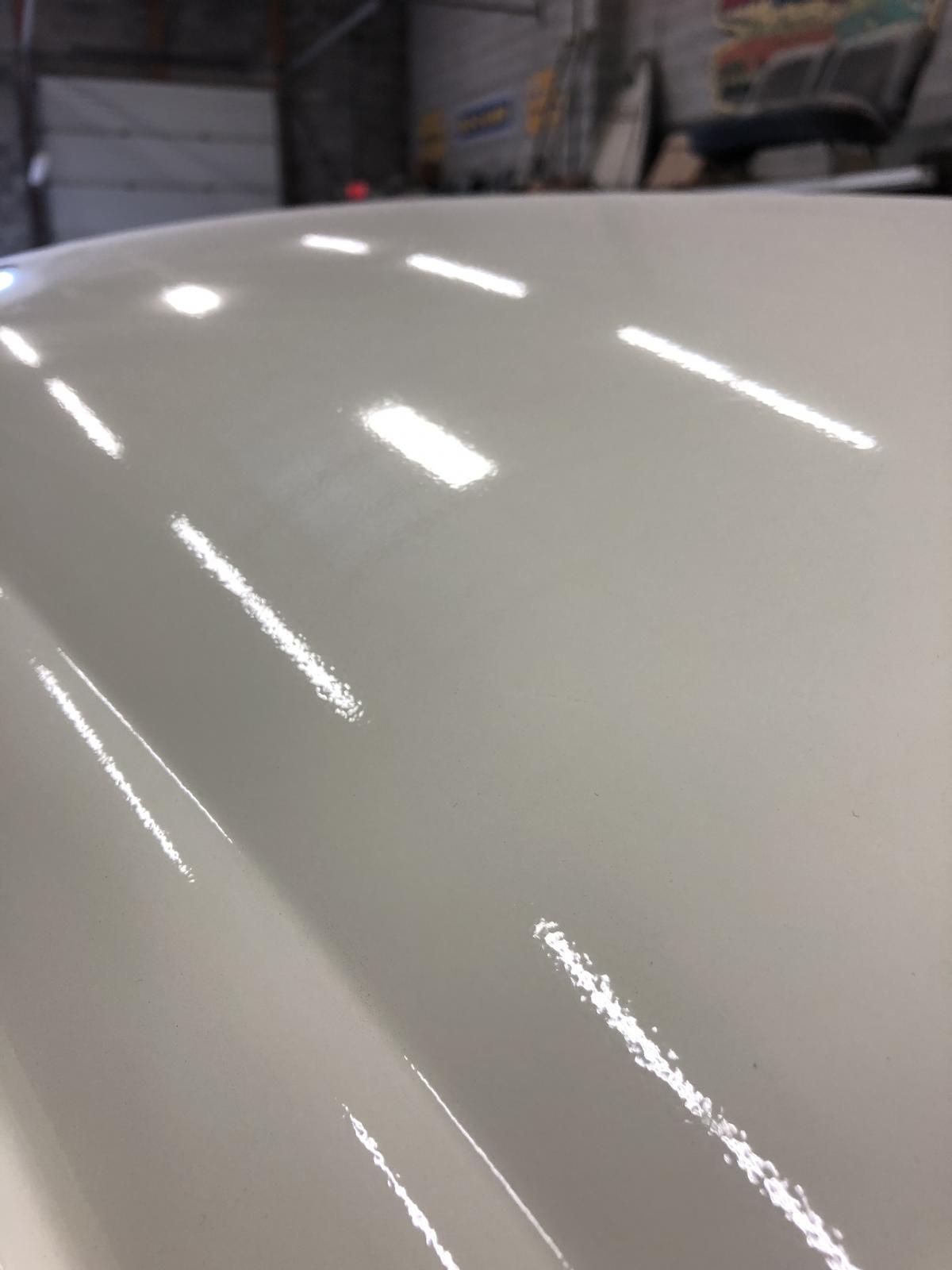 After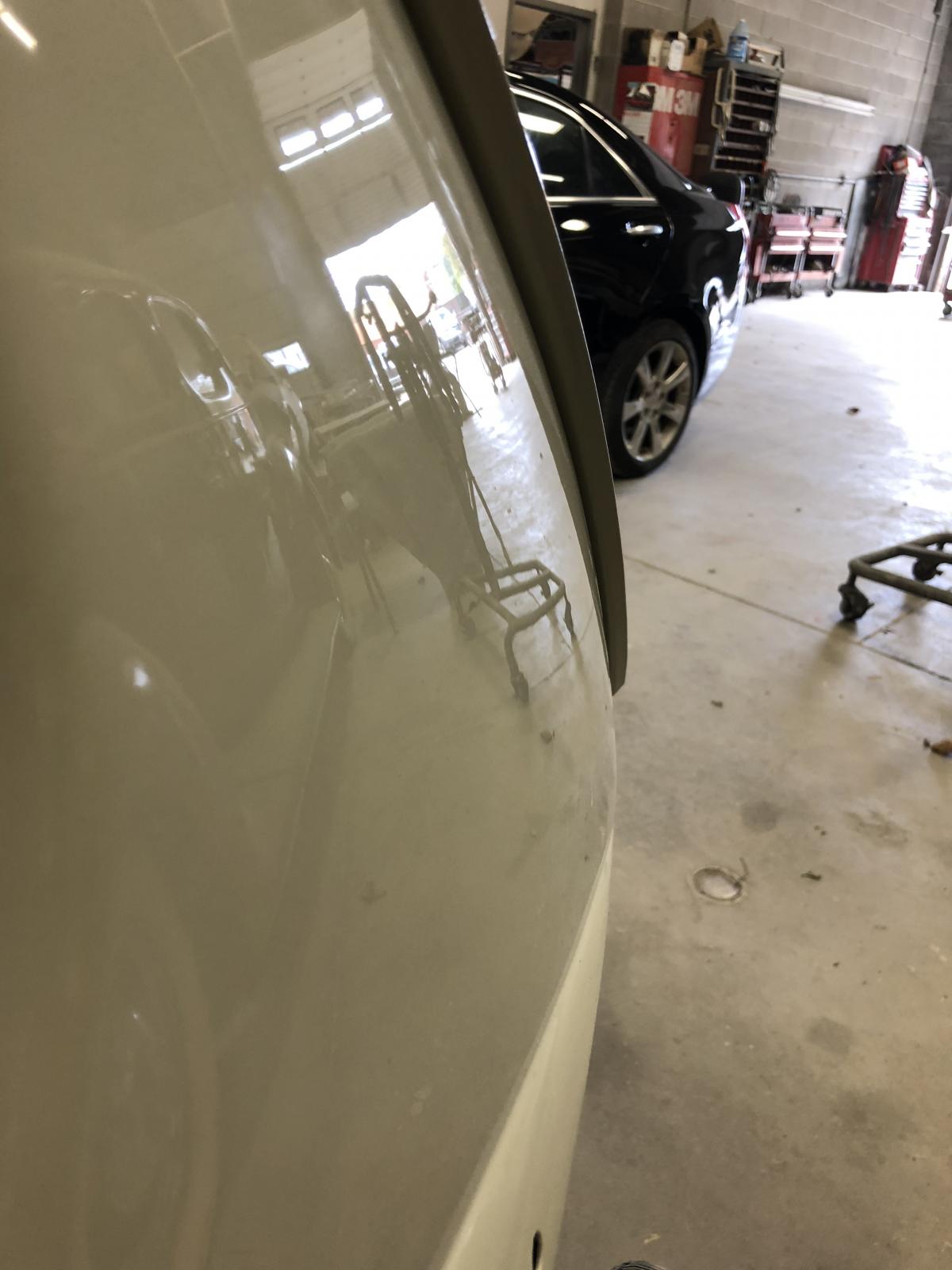 The shop let me get the body reassembled using their lift. This was way better than me trying to fit the doors and fenders alone at home in my garage and gave me a good jump start on getting the rest of the car reassembled.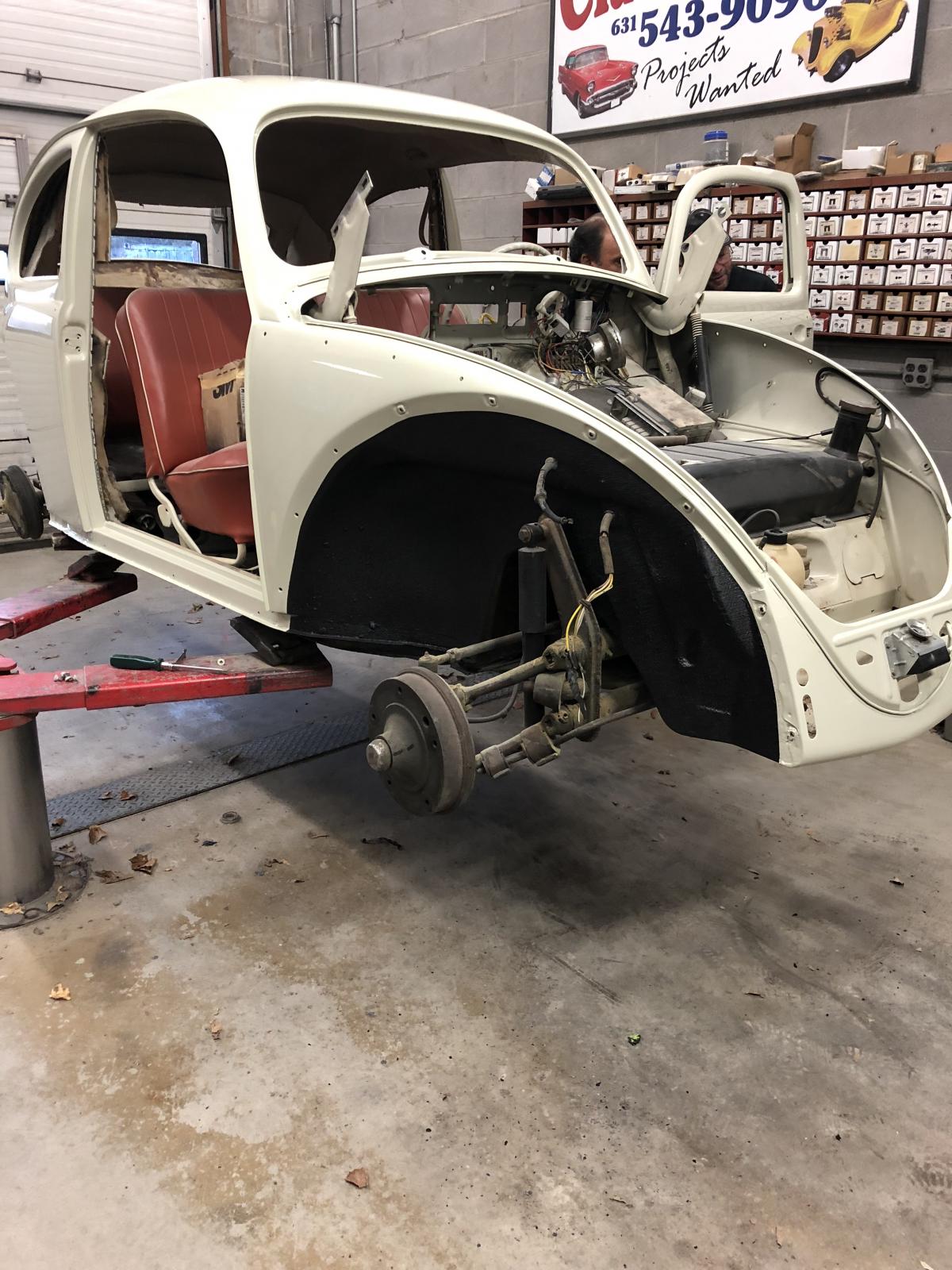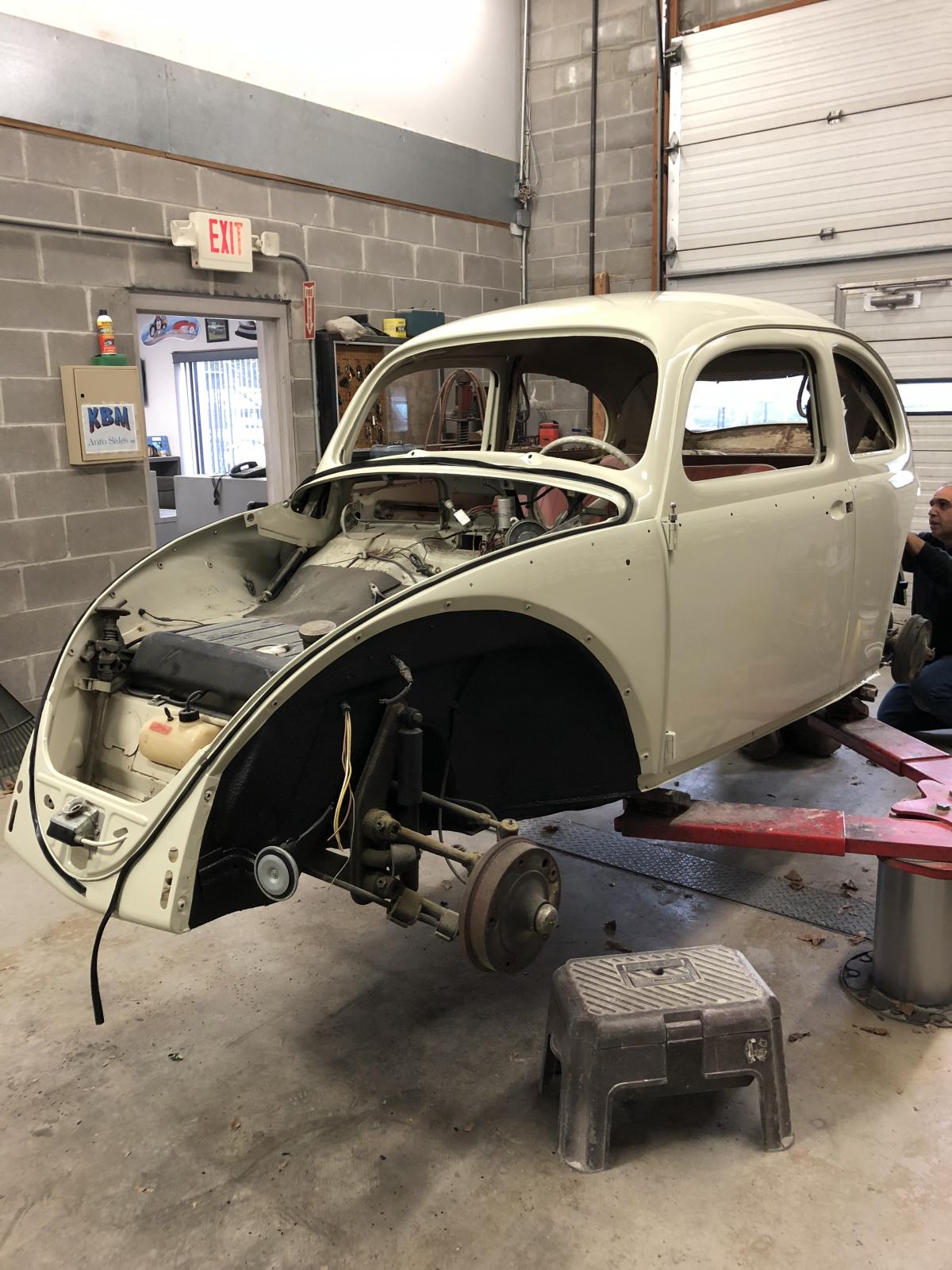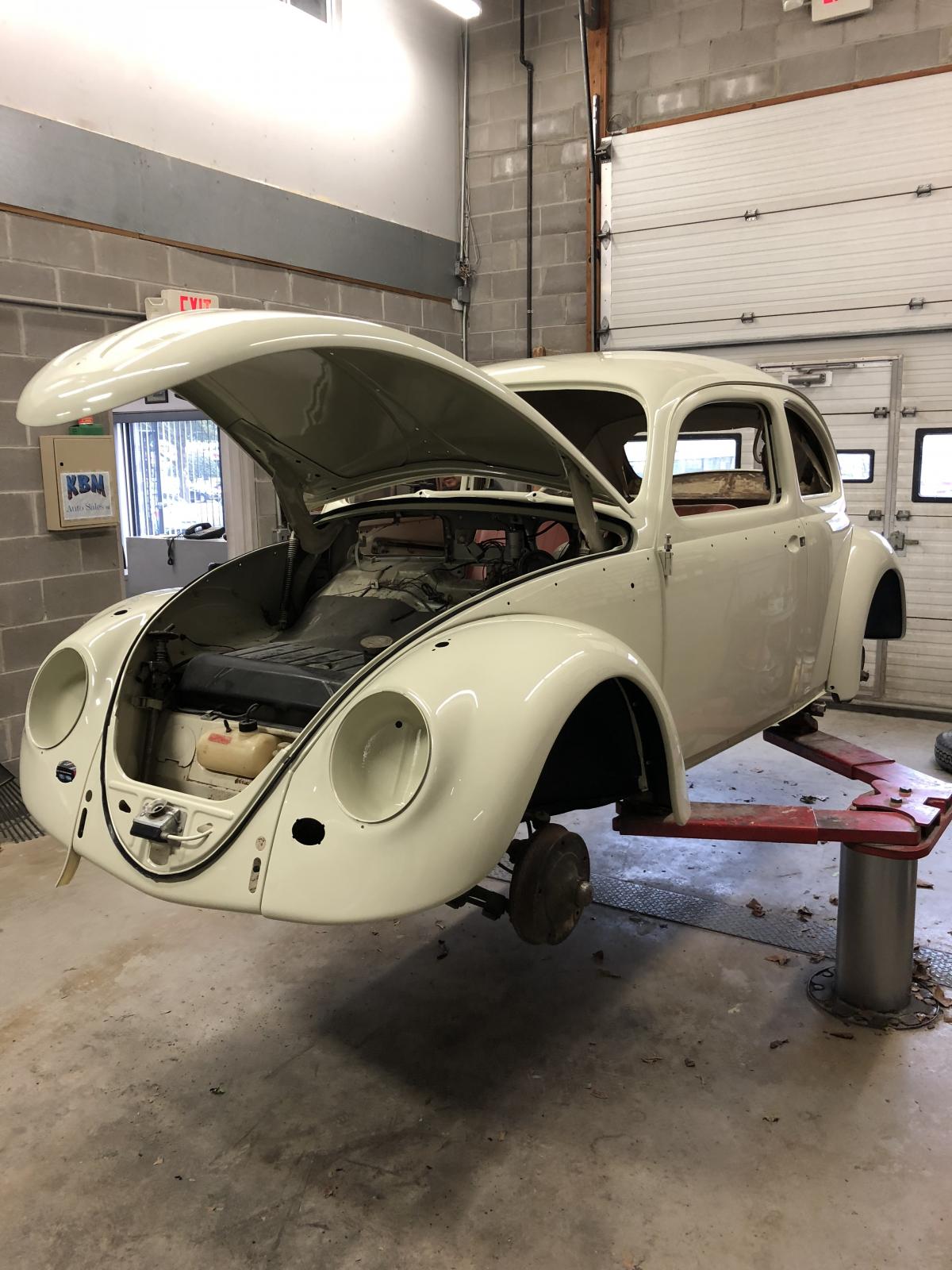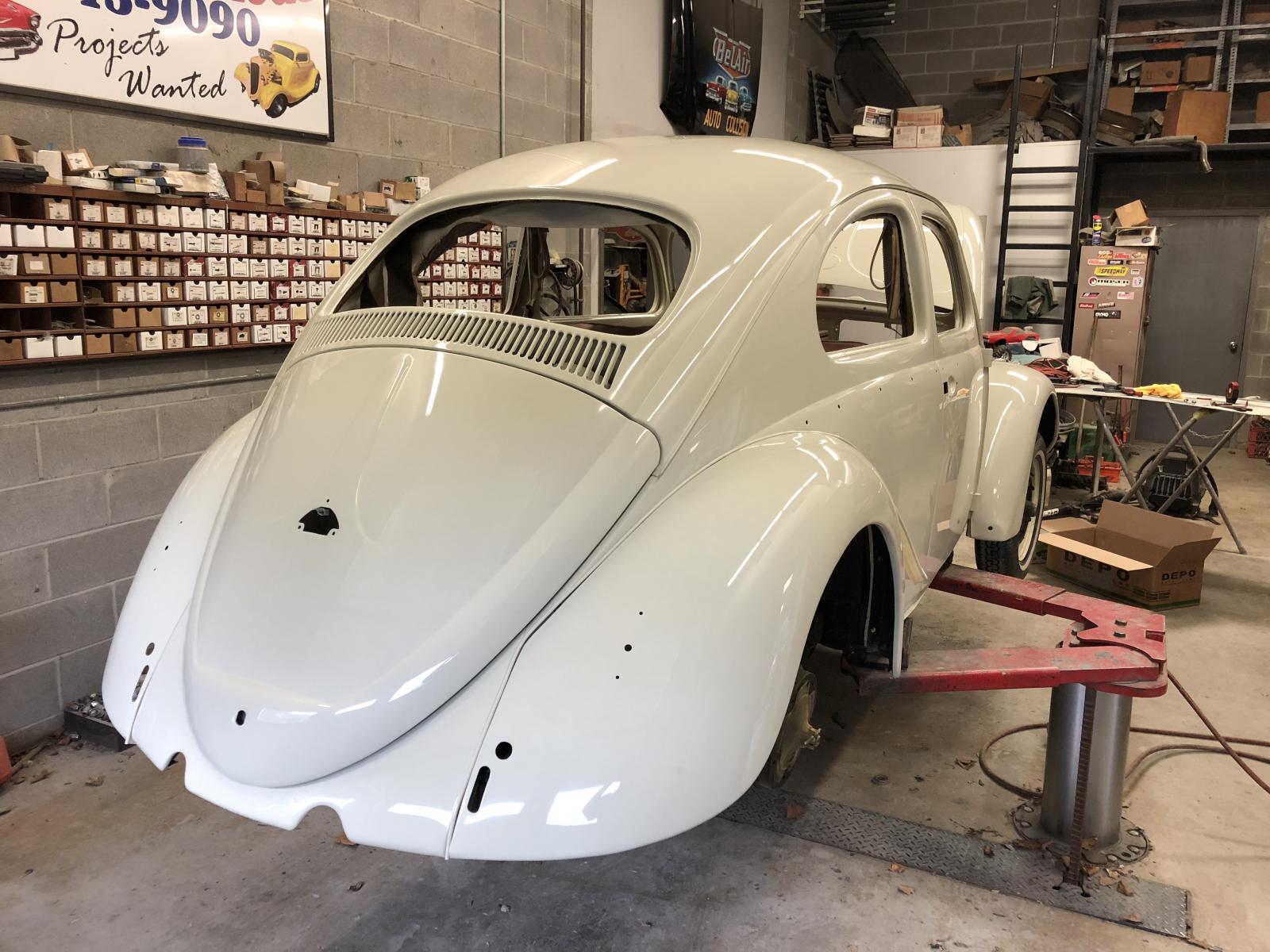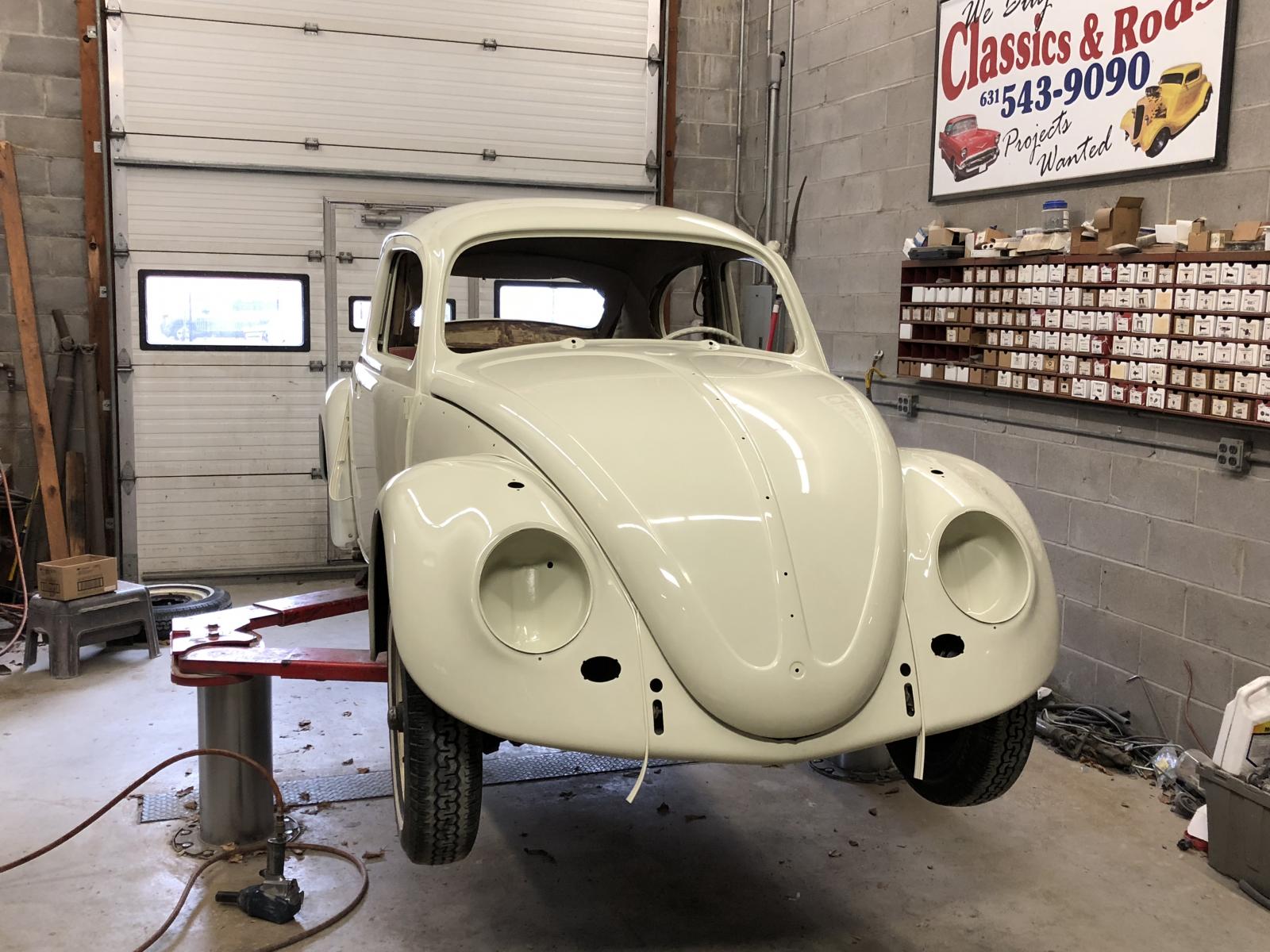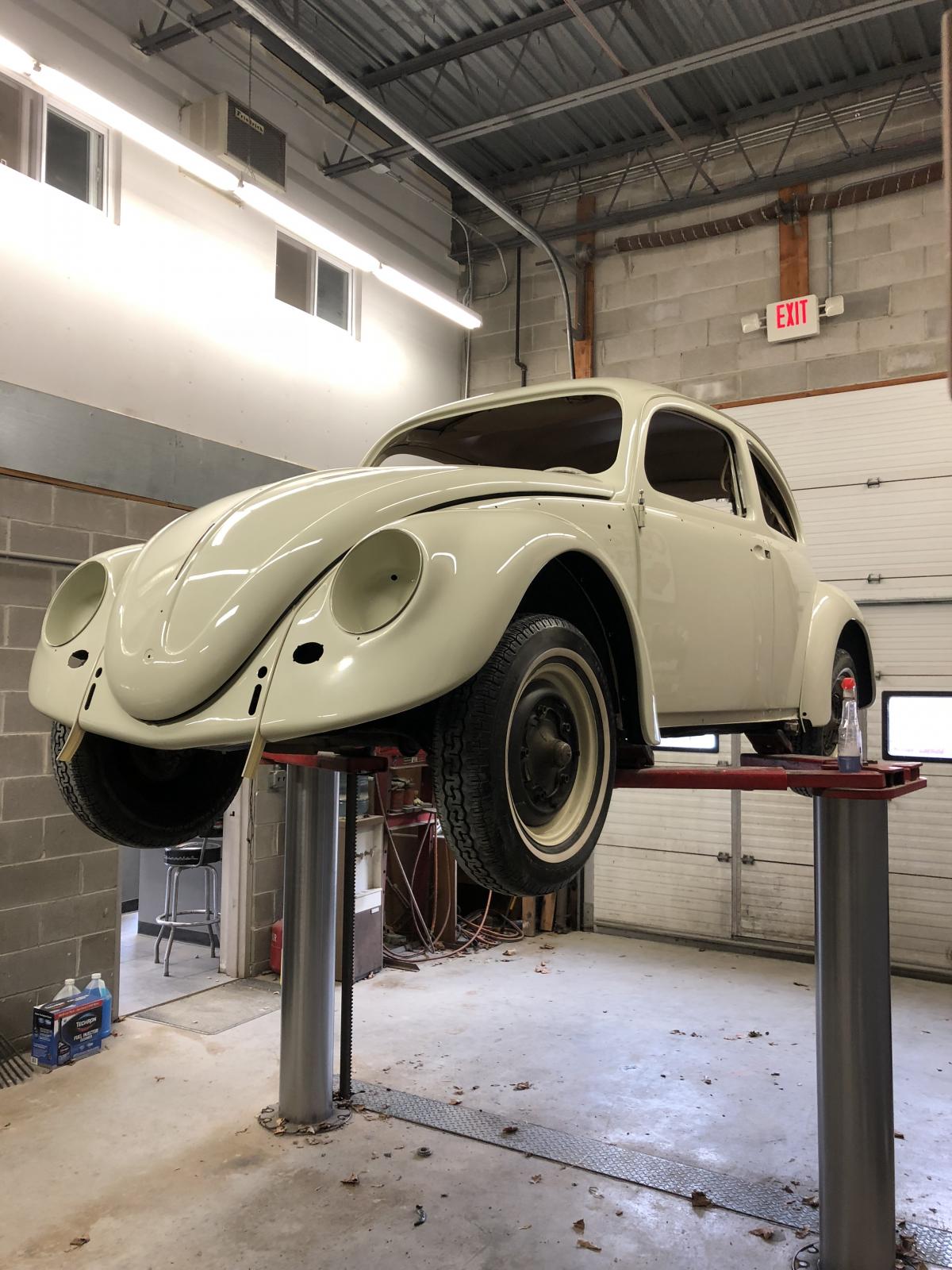 All done at the shop!
Final payout from Hagerty? $14,993.00
Out of pocket? About $900.
Once on all 4's, my friend Kris helped me tow it home. That's Glenn's bar under the nose - he has it back.
Since then, I bought Dave's old bar. It's a good thing to have.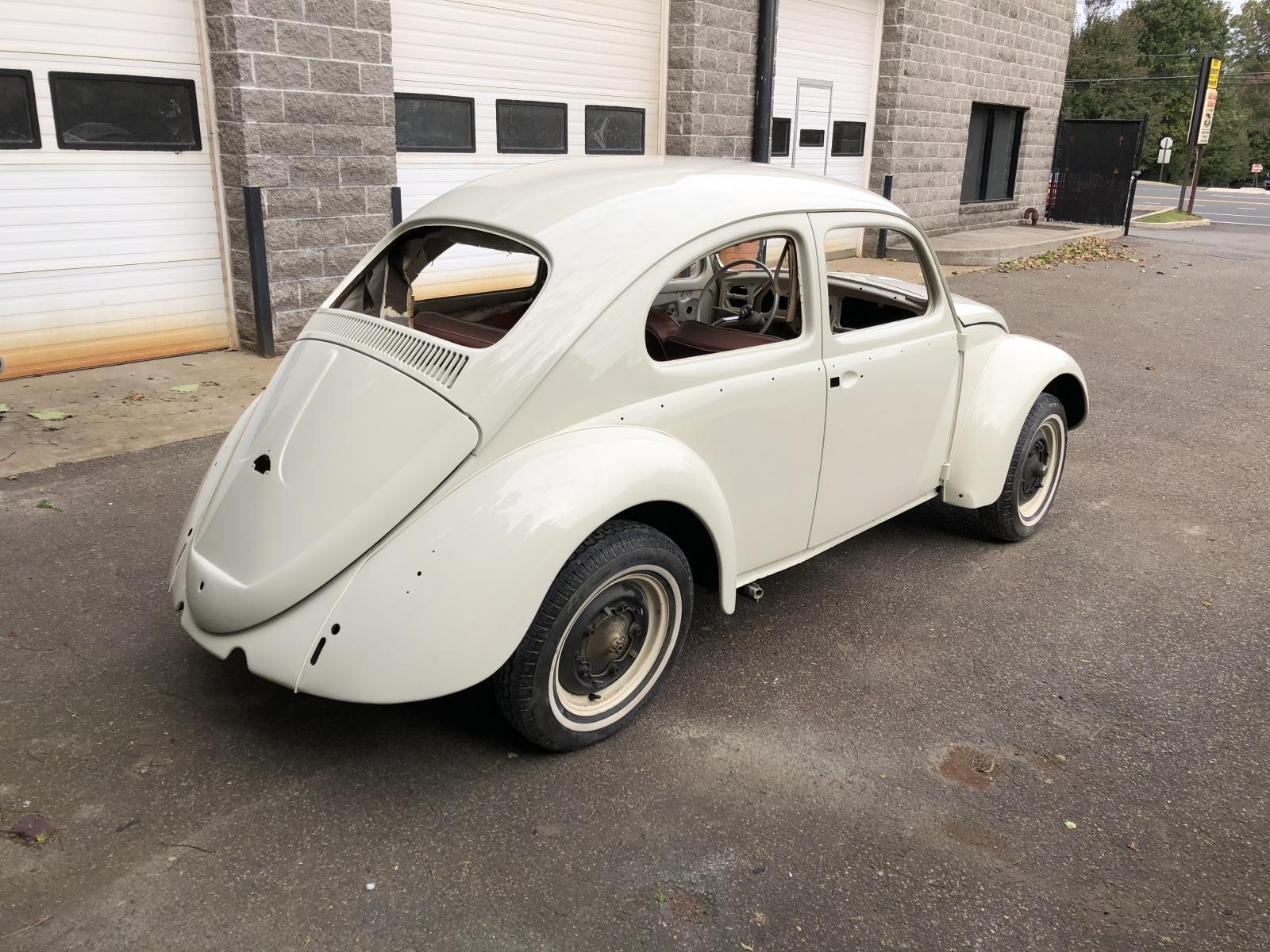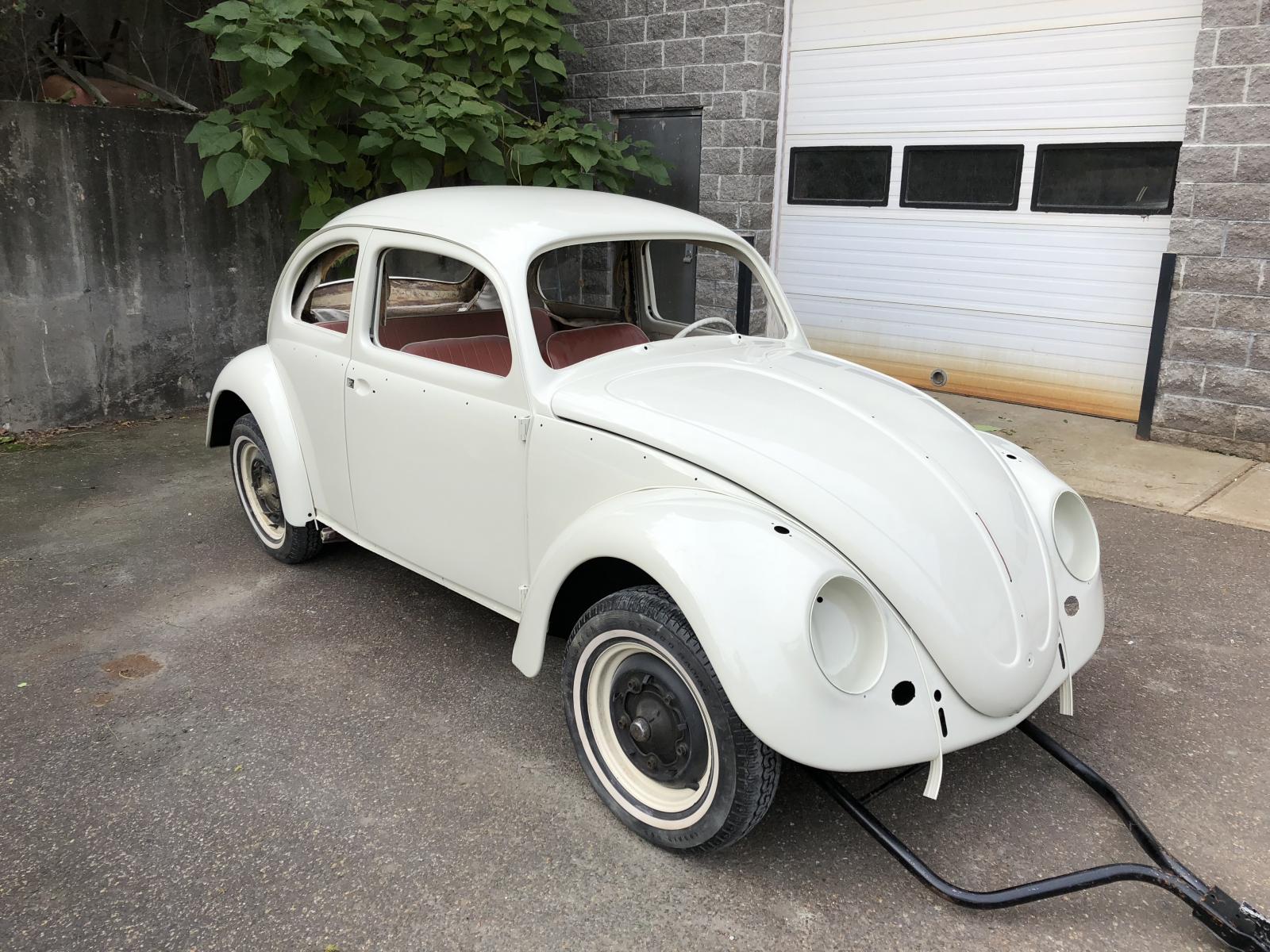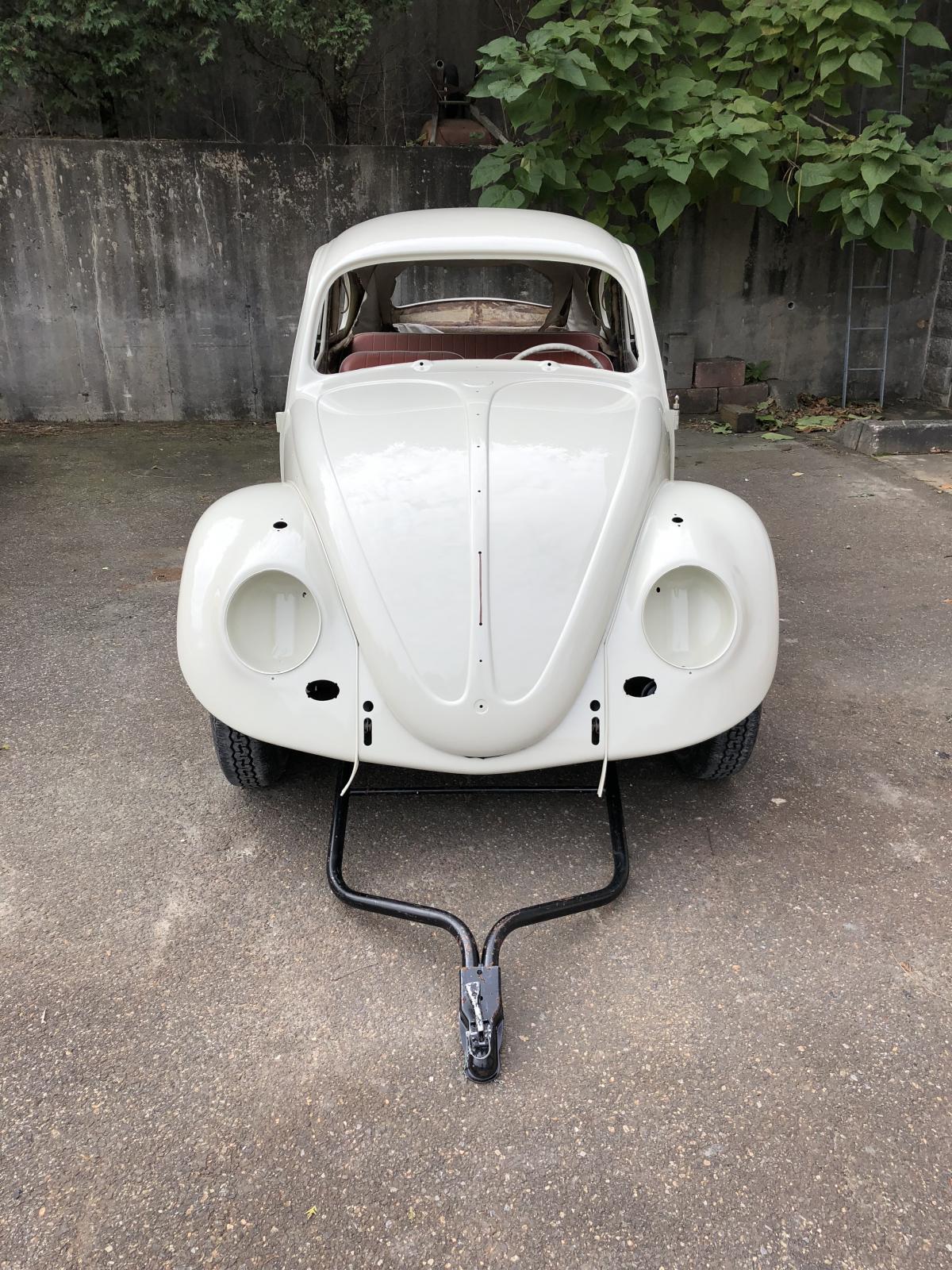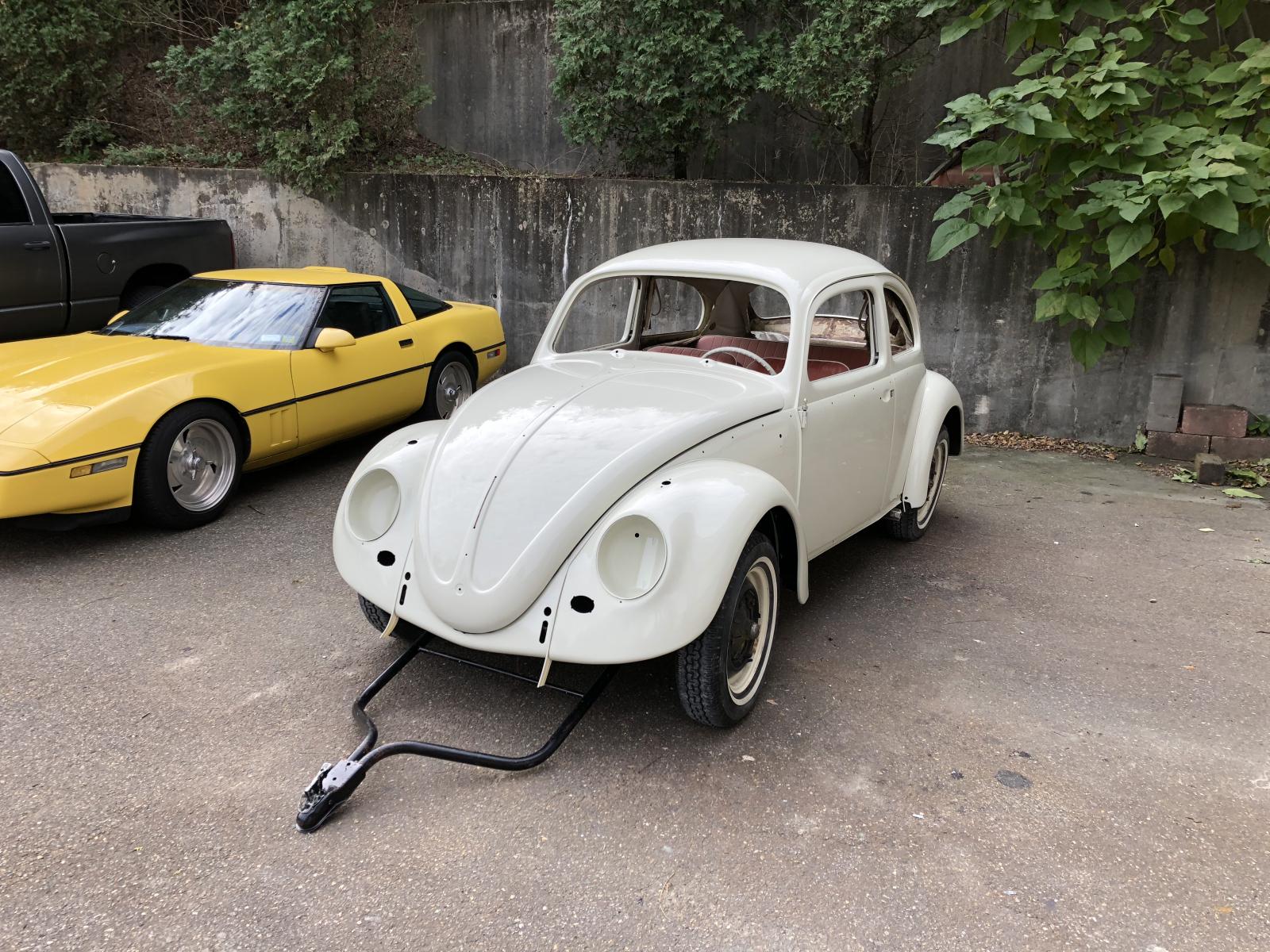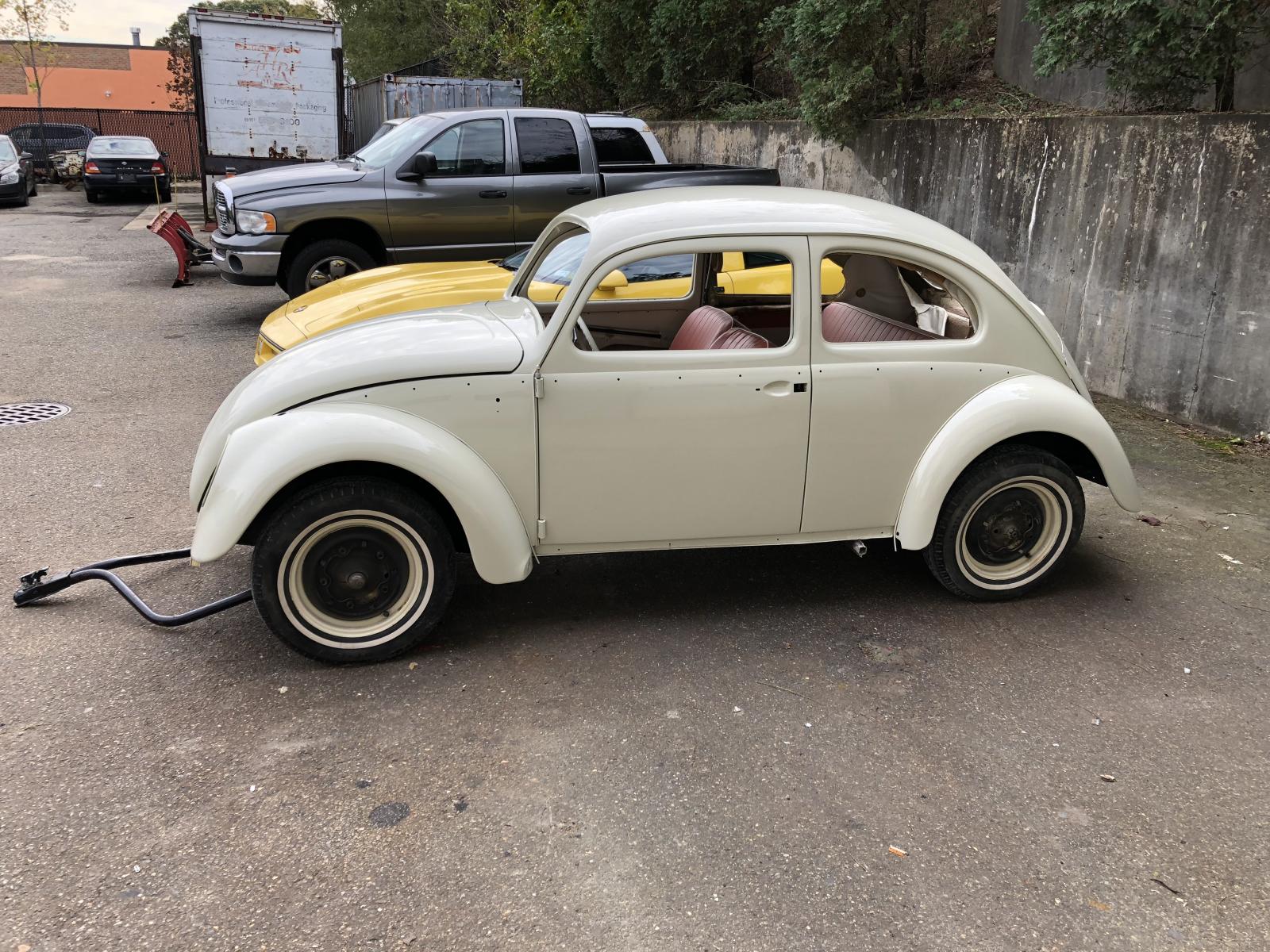 Any bright work that I couldn't buy real nice new replacement parts for, I had refinished.
This really meant alot of the chrome work which wasn't a big deal.
As we all know, new chrome sucks... Real chrome looks way better.
Hubcaps: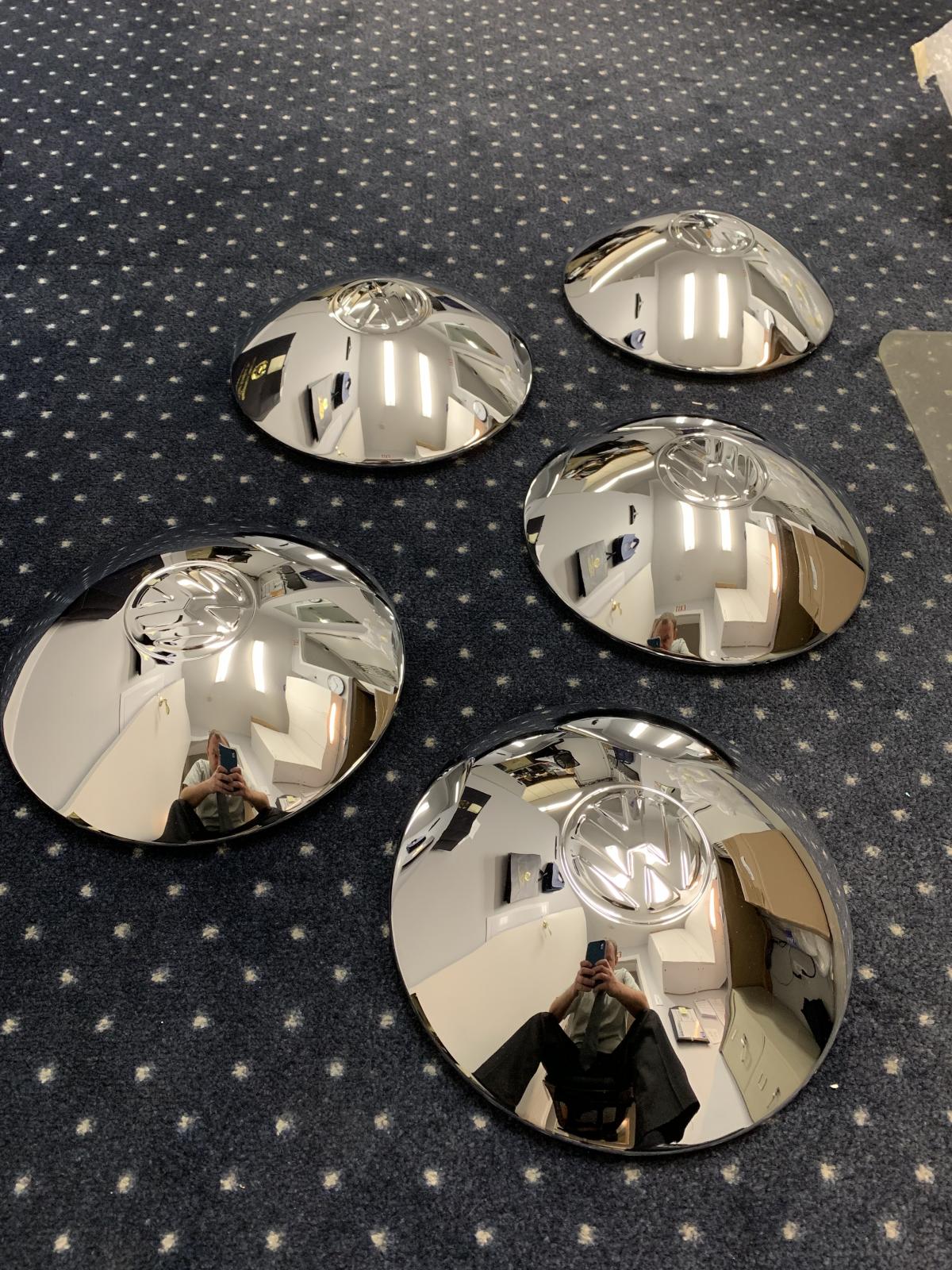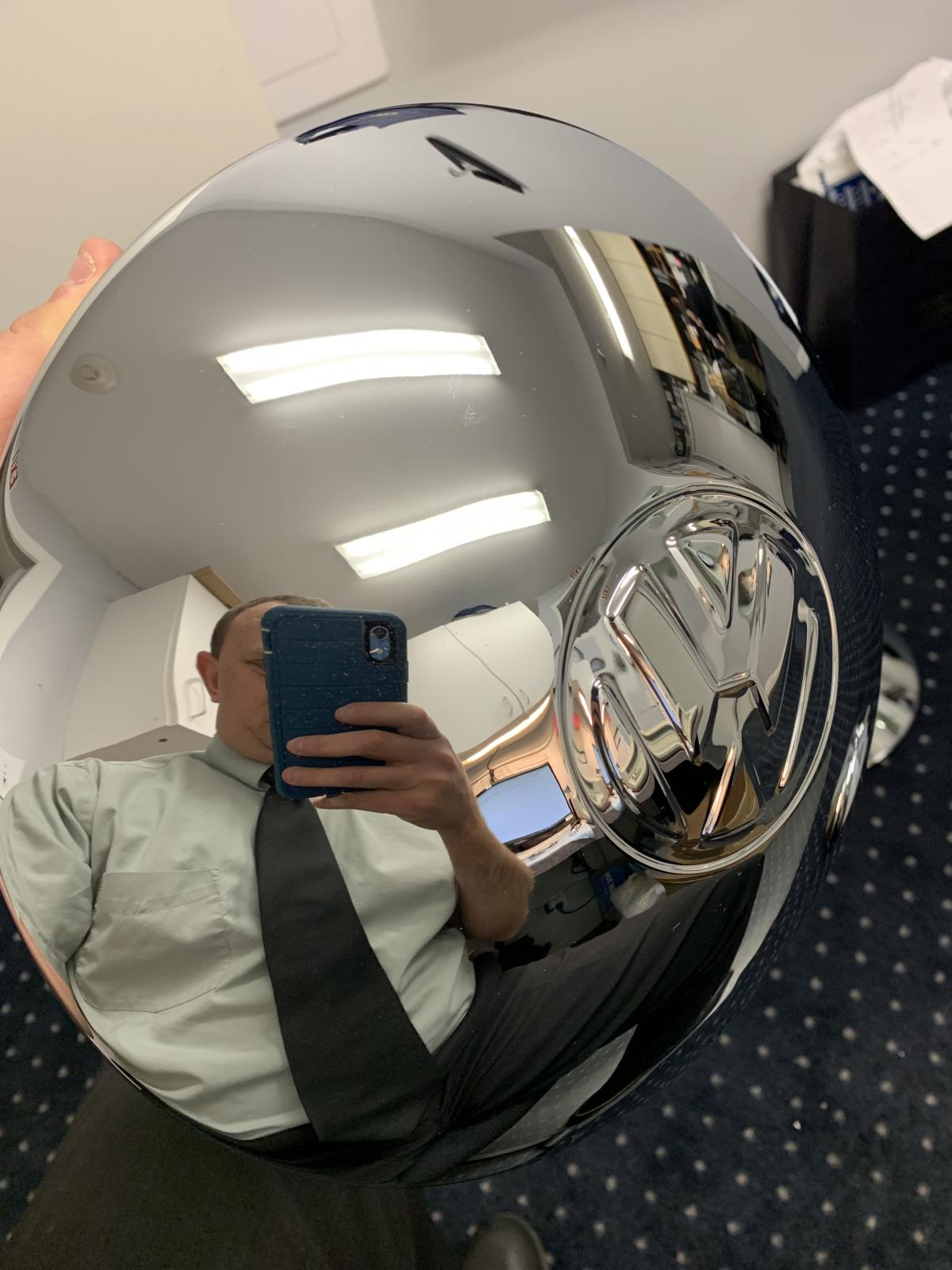 Tail light trim rings: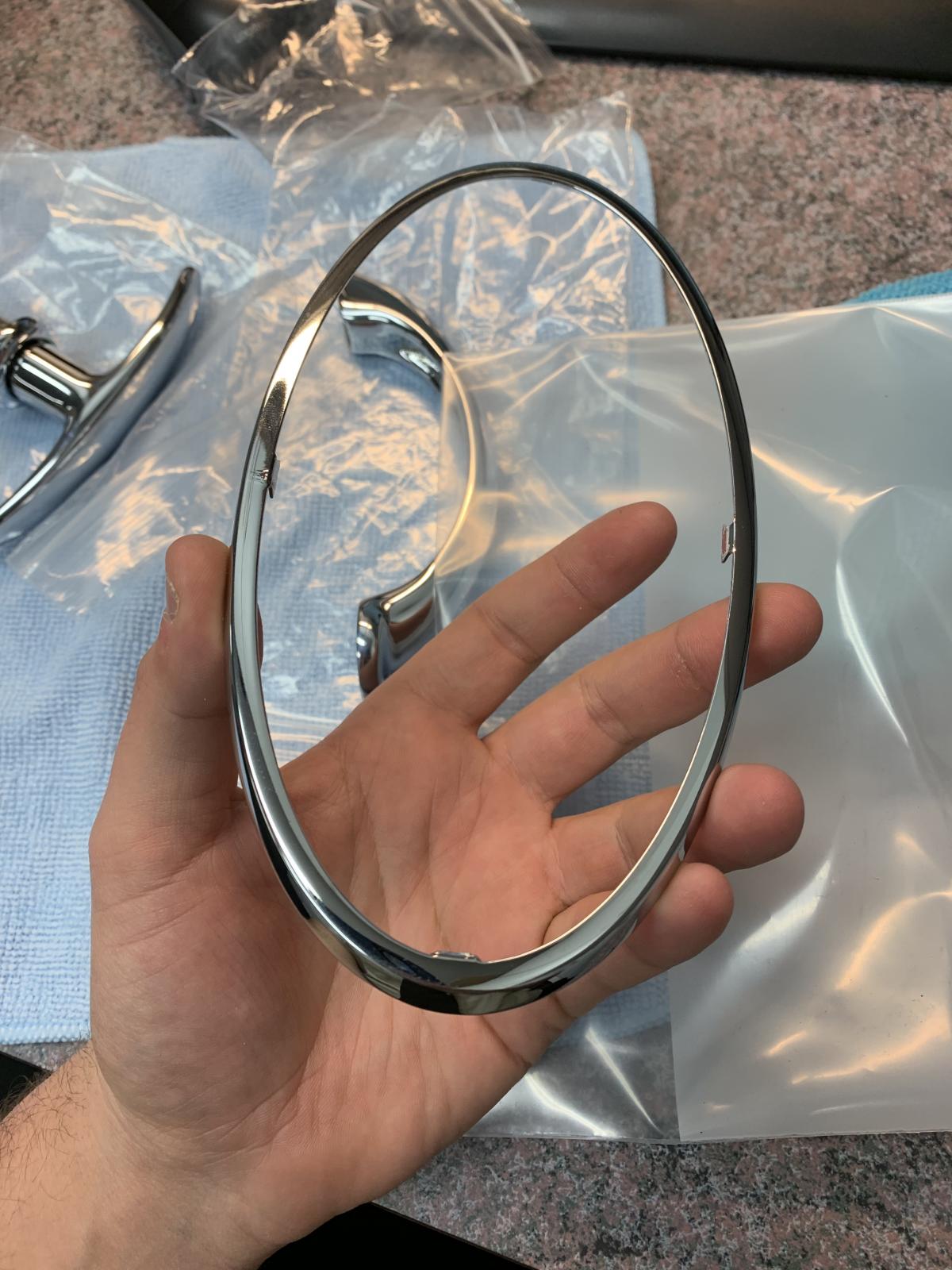 Frunk Handle: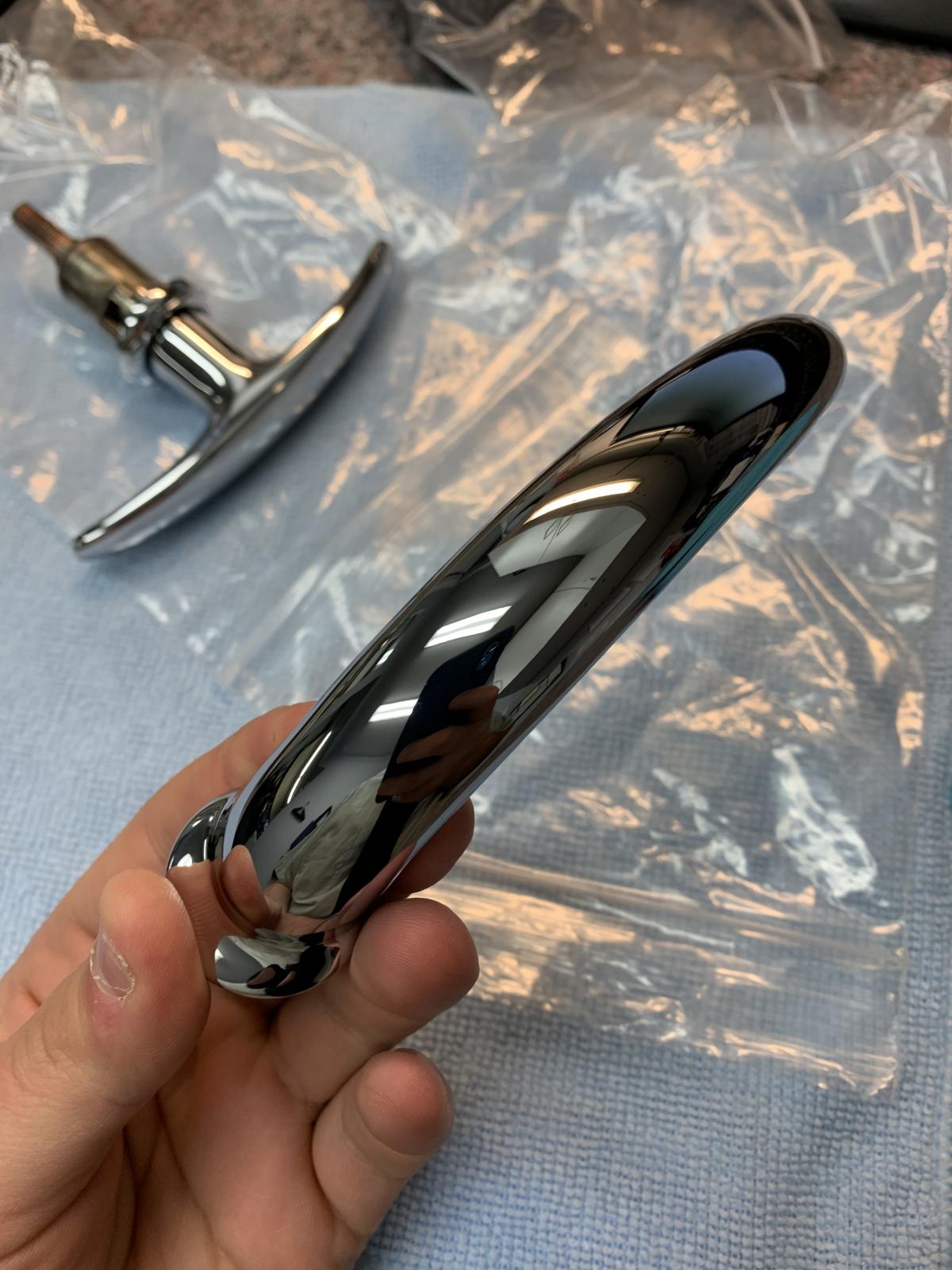 Decklid collar and handle: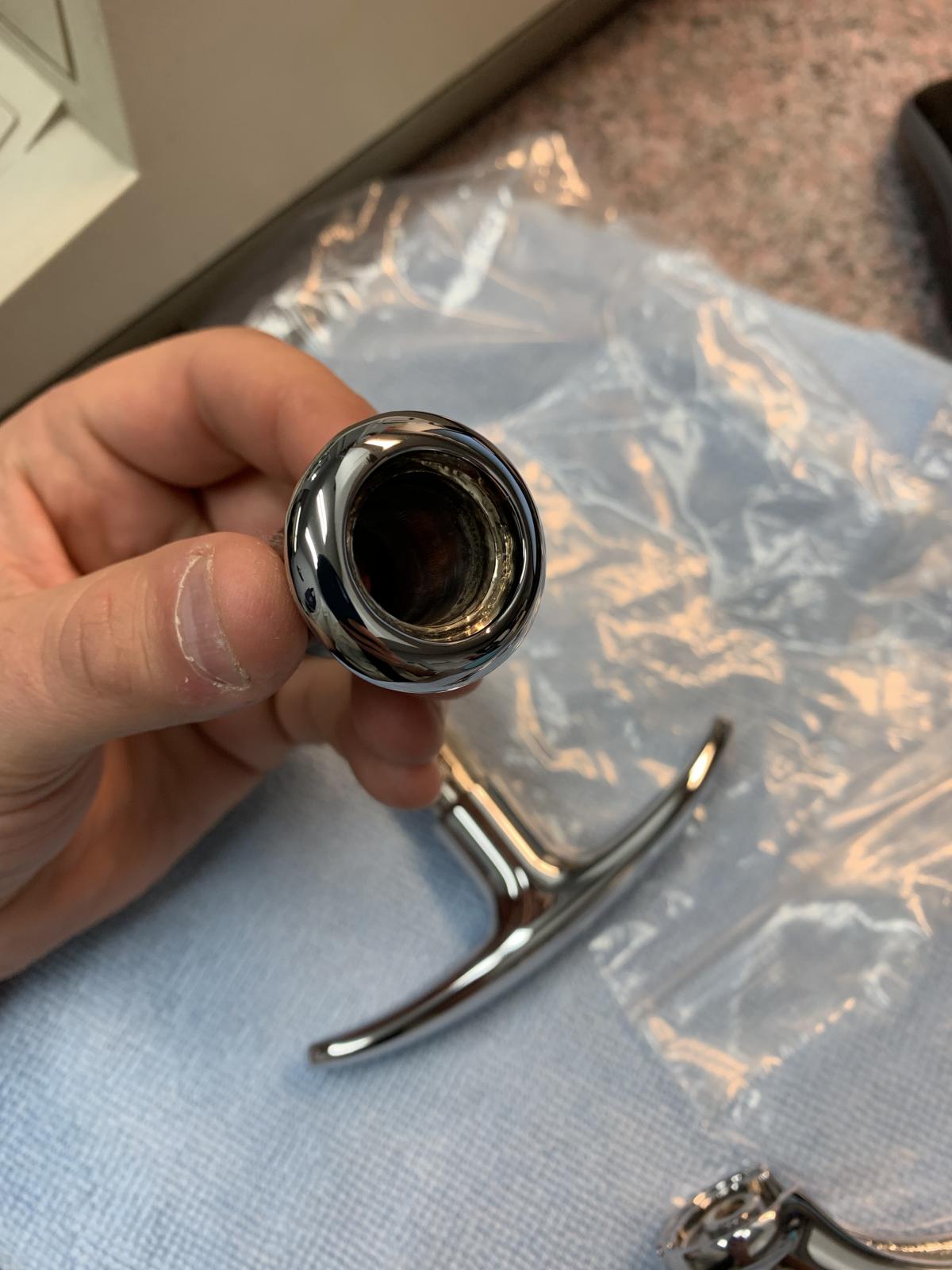 Vent window catches: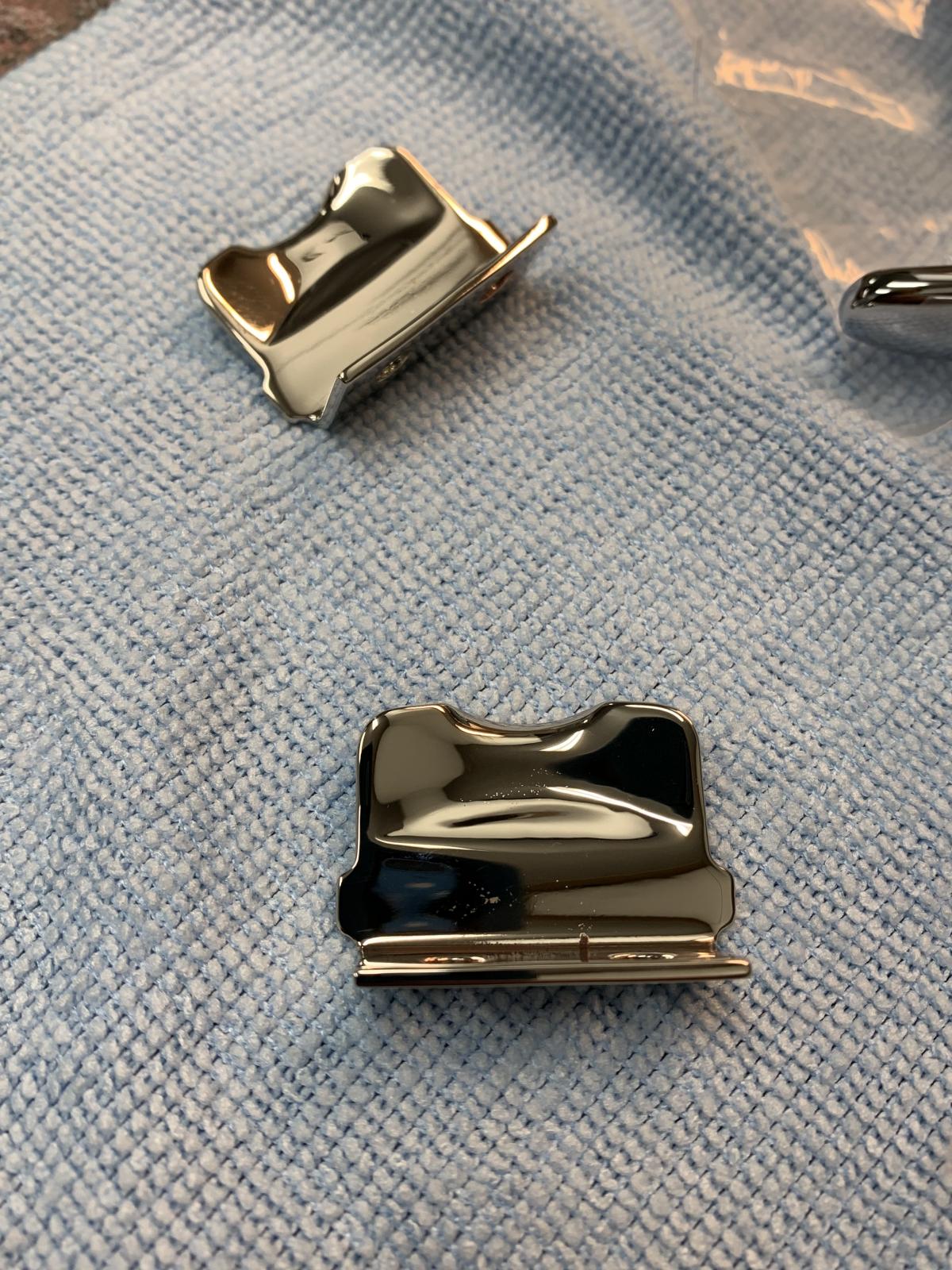 Then came the interior. With the windows out, the headliner started to crumble. Sound deadening went in, along with the new headliner. We put DynaMat on the floor and tunnel, and also on the parcel tray in the back. Then new carpet from Wolfsburg West, and new panels. Installed the trim in the windows and roped those in. Windows are easy, why does everyone get so fussy?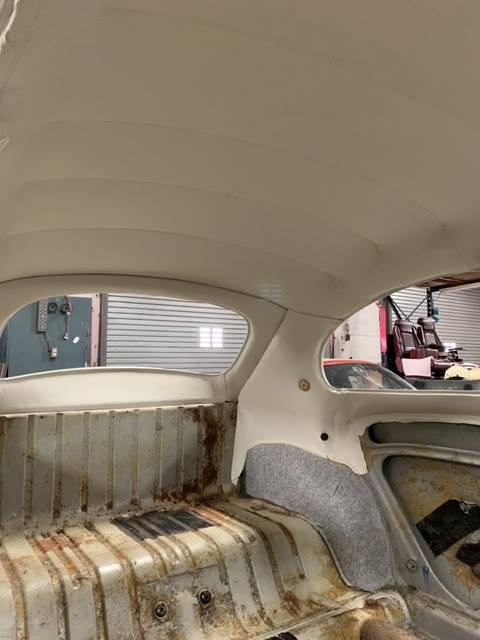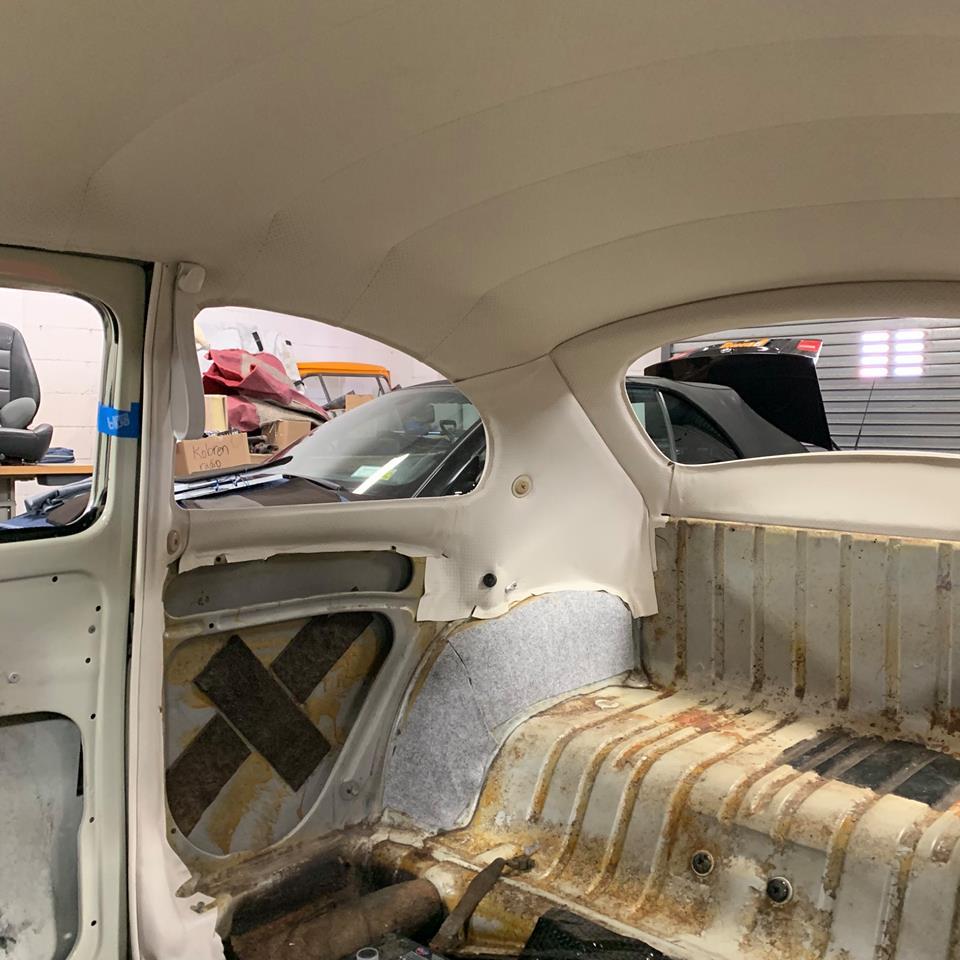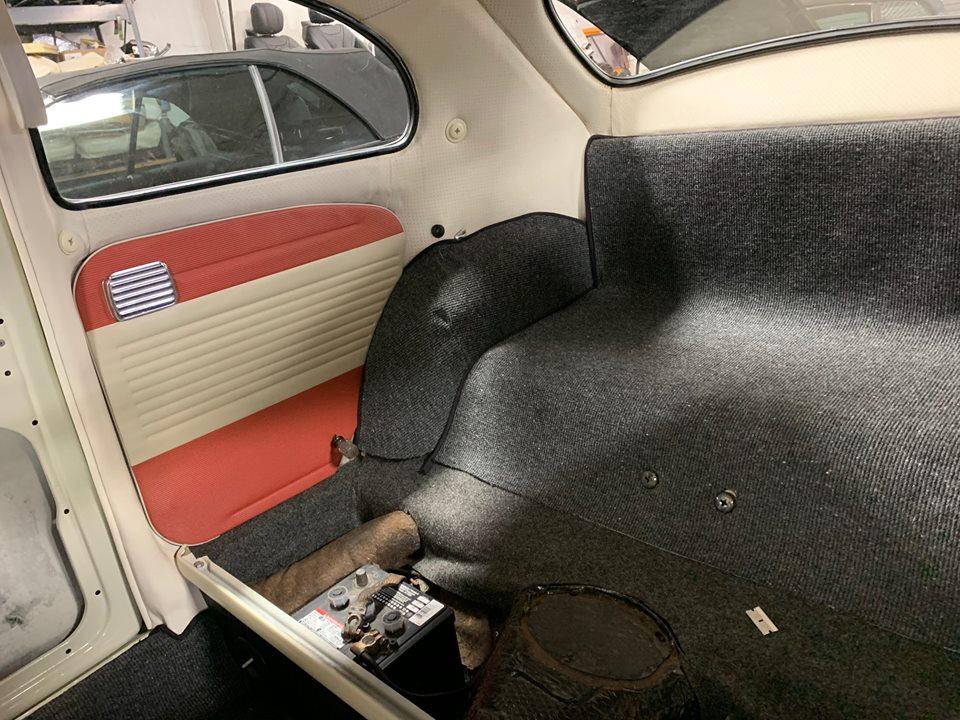 And put the stock rubber mats on the floor. I was torn about the carpet color - when I bought the car it had Oatmeal. But the body number says it should be black (really charcoal) carpet. So I went with that.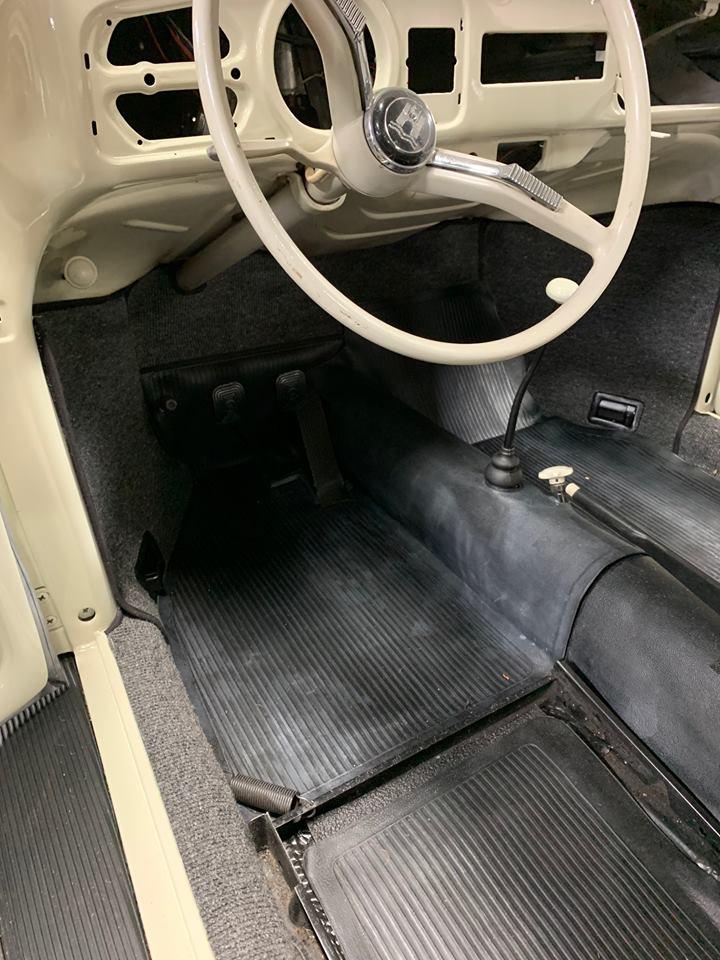 I had the front and back seats recovered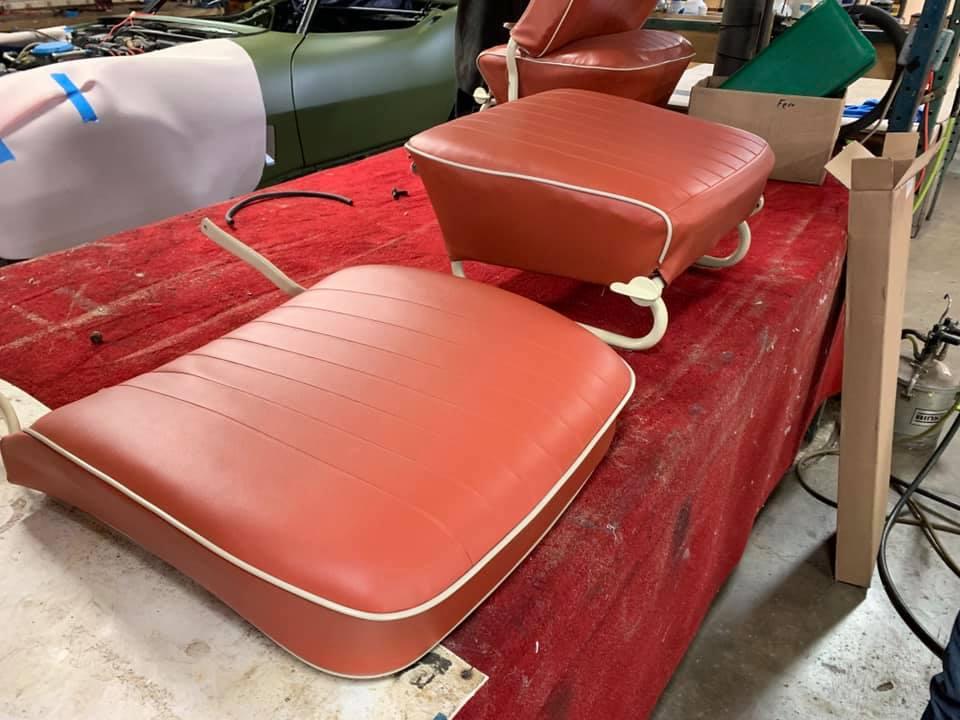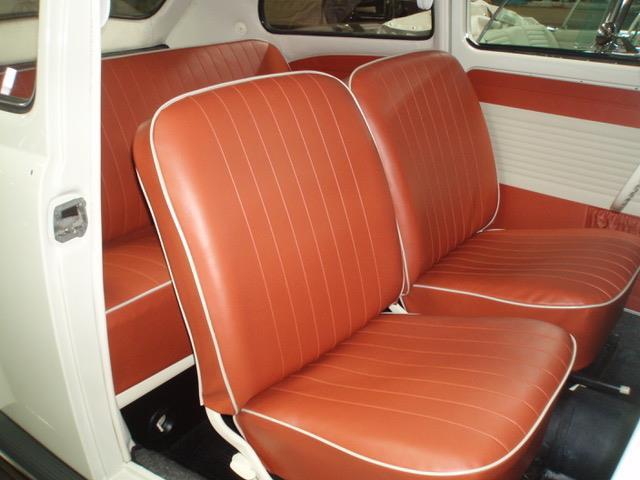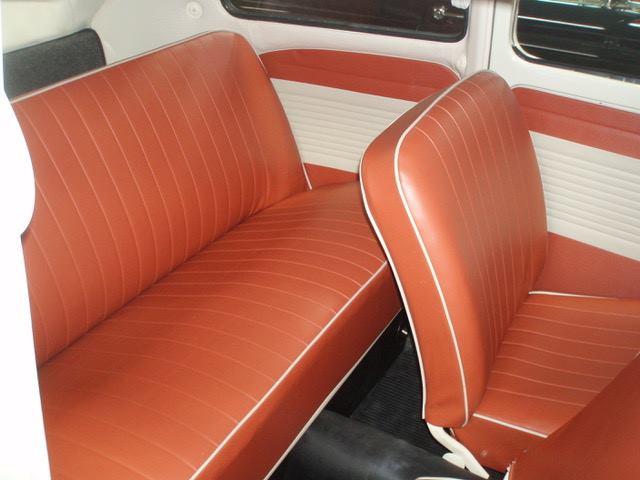 The engine tins were all brought to Action so they could powdercoat everything, and that will go back together soon.
I just installed the front vent window last night.
It wasn't hard to do, just took patience. There is one spot I am not 100% thrilled with, but I don't think I could have done it any better for my first go around. Once the whole car is together it may become one of my "redo that one day" projects. It's definitely not a project that can be done alone easily. I needed three hands often to slide the seals in place. So my buddy Sean came by to help.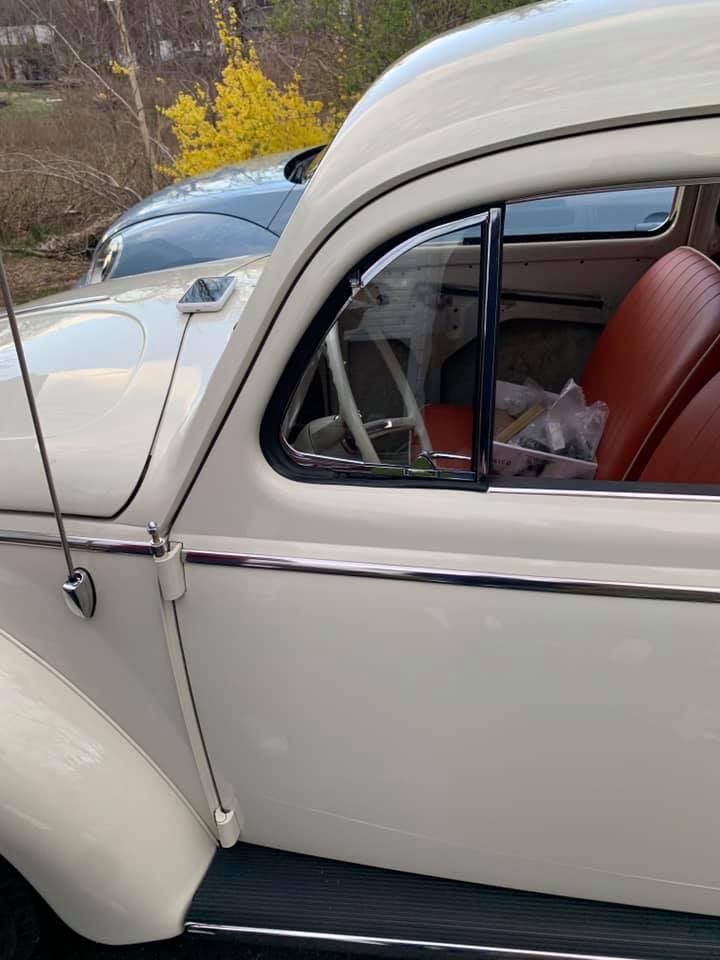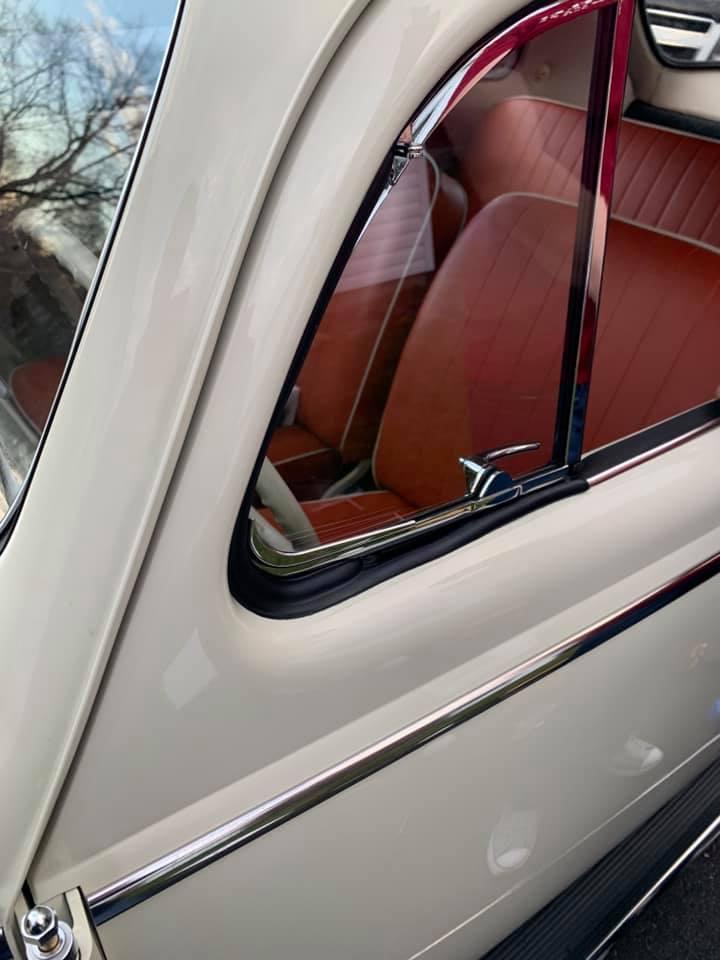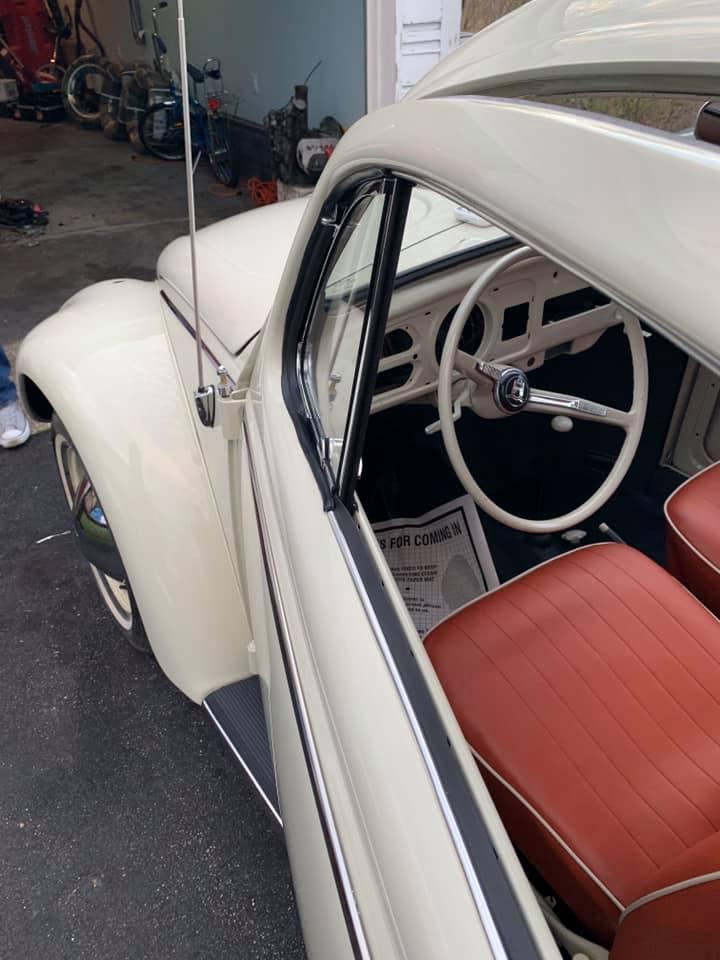 When I bought the car from Brad, it came with two 64 plates. I gave him back the plate he had registered to the car, but kept the JHR-32 because I thought it looked cool. I was able to register it to the car since 64 was a one plate only year. In the accident, it got bent up. I looked for a few places to fix it, and they varied wildly in pricing. I wound up using a guy who claimed to do it all for $95. I sent it to him and it came back looking real good. I'd say he did a 95% job on it, there are a few brush strokes in the letters that my discerning OCD eye picked up but for the price difference the other guys wanted - I'm really happy and I like that it was done by a little old man who just does this stuff as a hobby, not by some shop. He's kinda the Glenn Ring of license plates.